PAIZOCON Wrap-Up, Episode I
... PAIZOCON Wrap-Up, Episode I Tuesday, June 16, 2009PAIZOCON has come and gone, and we're all still recovering from the unbelievable amount of fun we had this weekend. Those of you who were there doubtlessly have your own favorite moments, but for those who weren't, I'd have to say my high points were playing Wes's imp familiar during the Pathfinder Society Interactive, possessing the spirit-medium Sean during the same event, running panels, hearing hundreds of people yell out Paizo trivia...
More Paizo Blog
.
---
Tags: Eando Kline James Sutter PaizoCon Pathfinder Journal Sean K Reynolds
---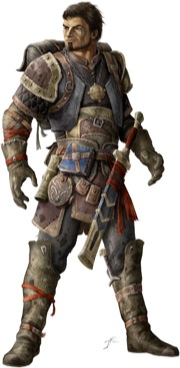 Eando's Final Bow
... Eando's Final Bow Wednesday, November 26, 2008When we first started the Pathfinder's Journal, back in Pathfinder #1, we really didn't know what it was going to be. Was it a travel guide? An in-character support article? A series of standalone short stories? ... By the time we reached Pathfinder #2, however, it was clear that what Pathfinder really needed was something different—a straight-up epic fantasy story with a familiar character who would give us fun world details, yes, but...
More Paizo Blog
.
---
Tags: Eando Kline Elaine Cunningham Pathfinder Journal Portraits
---

The Pathfinder Journal
The Pathfinder Journal Monday, July 2, 2007When we first came up with the outline for a typical volume of Pathfinder, there were several key things we wanted to make sure made it into every book. There had to be an adventure, of course, and several supporting articles giving background material that specifically expanded the adventure. There had to be an introduction that gave people a look behind the scenes, pregenerated characters, and numerous new monsters that could be easily dropped into...
More Paizo Blog
.
---
Tags: Eando Kline Pathfinder Journal
---