It's been an amazing year for Kingmaker, which made its digital debut in Owlcat Games' CRPG adaptation last fall. Many of you have been playing through the incredible story and experiencing first-hand the expanded storylines, companion interactions, and kingdom-building that the game has brought to life.
The Kingmaker Adventure Path debuted 10 years ago, and the softcover adventures that make up the epic campaign have long been out of print. We've wanted to return to the Stolen Lands in a complete Adventure Path hardcover collection, as we did for Rise of the Runelords and Curse of the Crimson Throne, but the question was always one of scope and timing. On the eve of Kingmaker's tenth anniversary next year, the timing answer seemed obvious, but we still don't know how much additional content to add, especially in the wake of the computer game's expansive release.
How much new and updated content is the right amount? We'll let you decide!
Paizo is partnering with our friends at Game On Tabletop to launch the Kingmaker Adventure Path for Pathfinder Second Edition. We'll start with a hardcover Kingmaker compilation, and you'll tell us how much more you want to see. The companions from the computer game were also a big hit, so we'll be adding a Companion Guide to introduce them to the tabletop campaign, complete with NPC stats, sidequest encounters, and expanded kingdom-management roles. Finally, we'll add a hardcover Kingmaker Bestiary for 5E, developed in conjunction with industry leaders in third-party 5E publishing, allowing players of the current edition of the world's oldest RPG the chance to experience the rich and detailed storylines that have made the Kingmaker Adventure Path a fan favorite for a decade. More add-ons and unlocks will be revealed as the campaign progresses.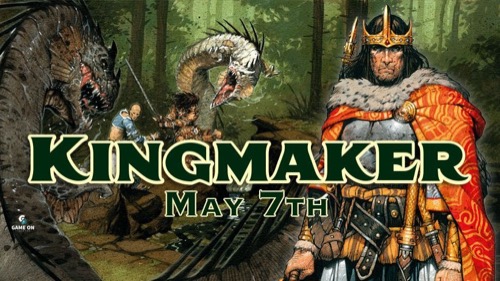 You'll be able to see all the details on Tuesday, May 7 at noon Pacific time at KingmakerCampaign.com. The campaign will run through midnight on May 21. Until then, tell your friends that the Kingmaker Adventure Path is coming to Game on Tabletop next week, and next year to your gaming table!
Want to talk more about Kingmaker? Join us Friday on Twitch at 4:00 PM Pacific time as Creative Director James Jacobs speaks about the history and story of the Kingmaker Adventure Path.