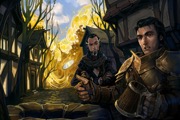 Building Horror
New rules for a more nuanced fear track with seven levels, as well as for sanity and madness, allow your group to play around with the psychological consequences of the terrible events that are all too common in a horror game. The fear track has a split between lesser fear (which can cause increasing weakness but doesn't make you lose control of your character) and greater fear (where your character is so frightened that they can't help but act on it). Sanity is a sort of mental pool of hit points, and losing too much at once exposes you to a new madness (of increasing severity if your current sanity is below half your maximum). Of course, even if you lose sanity a little at a time, losing all your sanity causes you to completely lose your grip on reality.
More Paizo Blog
.
---
Tags: Dave Allsop Kent Hamilton Pathfinder Roleplaying Game
---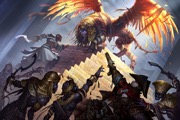 Got Those Summertime, Those Summertime Adventures
Summer has arrived, convention season is at full-tilt, and in just a few short weeks Paizo staffers and gamers from all over will be heading to Gen Con 2016 in sunny Indianapolis! The show is always highly anticipated both because it's a great opportunity to get to see masses of gamers all together in one place to celebrate their hobby, and because new and exciting Paizo releases tend to drop at the show. But before we load up the trucks and ship off, let's take a look at what's coming out and what we've announced since last time we spoke.
More Paizo Blog
.
---
Tags: Caio Maciel Monteiro Chris Knight Dave Allsop Gen Con Gen Con 2016 Pathfinder Roleplaying Game Rudy Siswanto Tomasz Chistowski
---

Hey, Who Turned Out the Lights?
It had been a few years since we returned the classic "Revisited" line of Pathfinder Campaign Setting sourcebooks, so we were really excited to delve into the depths beneath the Inner Sea in Darklands Revisited. All we had to do was narrow down what ten monsters we were going to feature in the book—a scary proposition indeed!
More Paizo Blog
.
---
Tags: Daniel Lopez Darklands Dave Allsop Harsk Jon Neimeister Mattias Fahlberg Pathfinder Campaign Setting
---

"Spooky? Do You Think I'm Spooky?" The Year in Review
Another year is in the bag, and with it, thousands of pages of Pathfinder Roleplaying Game content, ranging from new a whole new range of psychic classes in Occult Adventures to facing off against the demons of the Abyss in Pathfinder Adventure Card Game: Wrath of the Righteous! Here's a few highlights from 2015.
More Paizo Blog
.
---
Tags: Dave Allsop Donald Crank Emiliano Petrozzi Géraude Soulié Jaime Martinez Kiki Moch Rozky Nikolai Ostertag Pathfinder Adventure Card Game Pathfinder Adventure Path Pathfinder Campaign Setting Pathfinder Module Pathfinder Player Companion Pathfinder Roleplaying Game Tom Babbey
---
Seasons Greetings from the Paizo Crew!
This year we ventured back to Cheliax for a fight against the forces of evil in Hell's Rebels (to be followed by an accompanying foray as the forces of evil in Hell's Vengeance in early 2016), kicked demon butt in the Pathfinder Adventure Card Game with Wrath of the Righteous, detailed the peoples and races of Golarion in Inner Sea Races, shook up the Pathfinder RPG with Pathfinder Unchained, as well as pulled back the veil on the world beyond in Occult Adventures. We also struck partnerships with Audible and TOR to bring you Pathfinder Tales in exciting new formats (like Kindle and Audible Audiobook), and explored the world of our iconic characters in the Pathfinder Origins comic series.
More Paizo Blog
.
---
Tags: Dave Allsop Paizo
---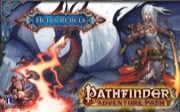 Inside Pathfinder #100
Last week, James gave a run down on the path to Pathfinder #100 in this blog. Now I'm here to talk a bit about the contents of this special volume—Pathfinder Adventure Path #100: A Song of Silver.
More Paizo Blog
.
---
Tags: Dave Allsop Dmitry Burmak Eric Belisle Hell's Rebels Jason Engle Matias Tapia Pathfinder Adventure Path Wallpapers
---

You Only Die Twice!
This is it folks—the final matchup round for our Bestiary 5 previews, and your final chance to get in your votes and a chance to win a copy of Bestiary 5!
More Paizo Blog
.
---
Tags: Ben Wootten Bestiary 5 Community Contests Dave Allsop Jim Nelson Jose Parodi Pathfinder Roleplaying Game Wayne England
---

Remember Remember, It's Bestiary 5 This November!
With the Round 2 votes in, we're down to the final four in our Bestiary 5 previews!
More Paizo Blog
.
---
Tags: Alexandru Sabo Ben Wootten Bestiary 5 Contests Damien Mammoliti Daniel López Dave Allsop Jose Parodi Pathfinder Roleplaying Game Tomasz Chistowski
---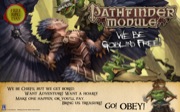 It's a Goblin Free-For-All!
Free RPG Day is here! Today game stores across the world are participating in this event, bringing new and exclusive adventures to their area, and inspiring new comers and long-time gamers to new roleplaying games. This year we're contributing two new products to Free RPG Day. The first is Pathfinder Module: We Be Goblins Free!, a new adventure following the antics of select characters from the Birdcruncher goblin tribe. For Adventure Card Game fans, we've got a real tricksy treat in store: Ekkie the Goblin Cutpurse.
More Paizo Blog
.
---
Tags: Dave Allsop Free RPG Day Goblins Jaime Martinez Pathfinder Adventure Card Game Pathfinder Modules Pathfinder Society Season of the Righteous
---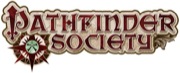 We Be Pathfinders!
This Saturday, June 20th, is Free RPG Day! Participating hobby game retail locations and industry publishers will be giving away free adventures and other materials so that gamers can try new games and play exclusive content together. This year Paizo has contributed two special products. A few months ago, Tanis O'Conner introduced us to the Pathfinder Adventure Card Game's special treat: the adventurous goblin Ekkie. Of course, many of you familiar with Pathfinder Society have likely met the little warrior while dealing with a certain goblin guild. I have no doubt she'll get up to even crazier antics now that she's a playable character.
More Paizo Blog
.
---
Tags: Community Dave Allsop Free RPG Day Goblins Pathfinder Modules Pathfinder Society
---

2009 ENnie Voting Ends!
... 2009 ENnie Voting Ends! Friday, July 31, 2009Last time I'll mention it this year, promise. Voting for the ENnie Awards ends tomorrow, so if you haven't cast your ballot yet for your favorite games and accessories, WHAT ARE YOU WAITING FOR!? Intimidation? Is that's what it's going to take? Fine then, I'll leave that to Dave Allsop's mite from the upcoming Pathfinder RPG Bestiary. Now go vote! ... Illustration by Dave AllsopWes Schneider ... Managing Editor ...
More Paizo Blog
.
---
Tags: Dave Allsop Gremlins Monsters Pathfinder Roleplaying Game
Sign in to start a discussion.
---