Unleashing Horror Adventures
At PaizoCon's "Horror in RPGs" seminars, in products like Pathfinder Campaign Setting: Rule of Fear, and pretty much wherever else I'm given the chance, I've talked quite a bit about how to run unsettling Pathfinder games(—you're all coming to our Horror in Pathfinder event at Gen Con, right?). In writing Chapter 6 of Pathfinder RPG: Horror Adventures, Running Horror Adventures (and in the book's section on "Playing Horror a Hero"), I've compiled some of my creepiest techniques and gaming philosophies, sharing them to help all you GMs out there make your Pathfinder games truly frightening.
More Paizo Blog
.
---
Tags: Chris Knight Mariana Fernandes Pathfinder Roleplaying Game
---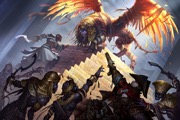 Got Those Summertime, Those Summertime Adventures
Summer has arrived, convention season is at full-tilt, and in just a few short weeks Paizo staffers and gamers from all over will be heading to Gen Con 2016 in sunny Indianapolis! The show is always highly anticipated both because it's a great opportunity to get to see masses of gamers all together in one place to celebrate their hobby, and because new and exciting Paizo releases tend to drop at the show. But before we load up the trucks and ship off, let's take a look at what's coming out and what we've announced since last time we spoke.
More Paizo Blog
.
---
Tags: Caio Maciel Monteiro Chris Knight Dave Allsop Gen Con Gen Con 2016 Pathfinder Roleplaying Game Rudy Siswanto Tomasz Chistowski
---