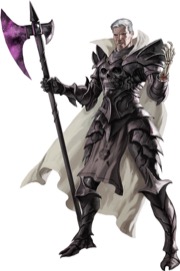 Expanding the Ranks of Hell
Beyond the seven well-known orders of Hellknight—Chain, Gate, Godclaw, Nail, Pyre, Rack, and Scourge—there are several minor orders. Among these are the vicious Order of the Coil, revenge-obsessed Sargavan interlopers, the Order of the Pike, a band of renowned monster hunters, and the Order of the Glyph, who you might already know from the Hell's Rebels Adventure Path. Some of these fringe groups number among the most heroic and villainous of the Hellknight orders, but heretofore little has been said about them. The Lesser Orders section of Path of the Hellknight changes that. While these orders hold a great deal of interest and potential, especially with some of their niche focuses, they have less of a footprint in the Inner Sea Region, and, appropriately, in this book. But I didn't want to leave readers gravitating toward these orders adrift. As a result, each of these orders references which major Hellknight order it's most similar to. This guidepost points readers toward an analogous major order with options to crib from. It's a quick fix, but it opens the door to a variety of options for Hellknights of these minor orders. Beyond this, you'll find plenty of new details, histories, and options for these orders. To show off a bit of that, here's a few snippets from one, the Order of the Wall.
More Paizo Blog
.
---
Tags: Caio Maciel Monteiro Damien Mammoliti Hellknights Leonardo Borazio Maichol Quinto Pathfinder Campaign Setting
---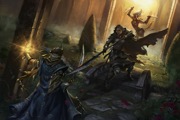 Behind the Art of Hell's Rebels
The launch of the Hell's Rebels Adventure Path is special for a number of reasons. Most significant, of course, is that this series will include the long-awaited issue number 100! It's taken a lot of hard work from many talented people to get Pathfinder this far, and I am extremely grateful to have been here to see issue 100 take shape.
More Paizo Blog
.
---
Tags: Caio Maciel Monteiro Ekaterina Burmak Hell's Rebels Kiki Moch Rizky Paizo Pathfinder Adventure Path Will O'Brien
---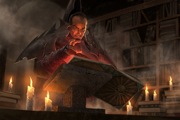 You Must Don a Costume That Strikes Fear into Them...
Our newst Pathfinder Adventure Path is about to drop this month, and Hell's Rebels has two things Paizo fans love: fightin' against authority and swear words in the title! It also has daring adventure, a huge variety of encounters from roleplay and puzzles to devil-slaying and sabotage, along with a diverse cast of memorable NPCs—both helpful and vile—scads of unique magic items, and a whole new system for managing a secret society. But, we know what our readers really love: swear words.
More Paizo Blog
.
---
Tags: Caio Maciel Monteiro Cheliax Hell's Rebels Pathfinder Adventure Path Shen Fei
---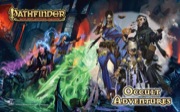 Occult of Indy
Many of us are heading out to Indy next week for Gen Con 2015. In the Paizo booth there will be a huge display made from Pathfinder RPG books, and the latest of them's going to be Occult Adventures. Here's a last preview at the fantastic art before it officially releases on July 29! See you in Indy!
More Paizo Blog
.
---
Tags: Caio Maciel Monteiro Estra Federico Musetti Iconics Igor Grechanyi Investigators Mariusz Gandzel Mavaro Meligaster Merisiel Mesmerists Occultists Pathfinder Roleplaying Game Quinn Rogues Spiritualists Subroto Bhaumik Wallpapers Wayne Reynolds
---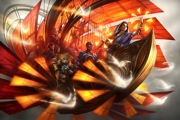 Of the Occult and Psychic Obscura!
The content we showed off from July's Occult Adventures hardcover at the PaizoCon Preview Banquet whetted some appetites for a few more details. I know many of you are looking forward to sinking your teeth into the book even more, especially after we previewed all of the art of the new iconics—and don't worry, you'll be seeing more of them soon! But for enjoy, enjoy this curated selection of art from Occult Adventures!
More Paizo Blog
.
---
Tags: Caio Maciel Monteiro Emiliano Petrozzi Nickolai Ostertag Pathfinder Roleplaying Game Roberto Pitturru Suzanne Helmigh Tomasz Chistowski
---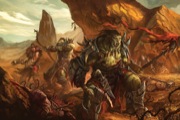 Let Slip the Orcs of War!
It seems like forever ago we sent Pathfinder Campaign Setting: Belkzen, Hold of the Orc Hordes off to the printer. So long ago did we ship it, in fact, that I was caught woefully unaware when those little digital orcs we sent across the sea to be printed returned, all grown up and hungry for my blood. I managed to divert their attack to the warehouse, whose border abuts my office, avoiding the worst of the onslaught. I understand they've successfully divided the horde into small, easy-to-defeat single members and sent them off to our noble subscriber allies. To aid you in your orc-slaying efforts, I present a glimpse at some of the horrors that await you. Study them well, and always check your mail with sword drawn until the Belkzen threat has been quelled.
More Paizo Blog
.
---
Tags: Brynn Metheney Caio Maciel Monteiro Orcs Pathfinder Campaign Setting Wayne England
---

The Stars Are Falling Soon!
The latest volume of the Pathfinder Campaign Setting line has started shipping out to subscribers, and it's one that I know a lot of players and Game Masters are very excited to get their hands on—Numeria, Land of Fallen Stars I asked one of the book's co-authors, Jim Groves, to write a few words about his own excitement surrounding the book, and what a few of his favorite elements of it are. Here's what he has to say (as well as a few pieces of preview art I generously appended to his text).
More Paizo Blog
.
---
Tags: Caio Maciel Monteiro Iron Gods Pathfinder Adventure Path Pathfinder Campaign Setting Patrick Reinemann
---