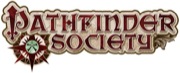 OPC Log—2 Arodus 4716
Hi everyone! Writing to you from the Sagamore Ballroom in the Indianapolis Convention Center. Flew in the night before last from the United Kingdom to start setting up for Gen Con, which kicks off this Thursday. Yesterday morning, the Sag was empty, with three lonely pallets of stuff shipped from Paizo home offices. At its busiest, there were 30ish people bustling around, hanging banners, moving tables, and getting the basics set up.
More Paizo Blog
.
---
Tags: Conventions Gen Con Gen Con 2016 Pathfinder Society Year of the Stolen Storm
---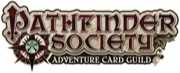 Goblins, Promo Cards, and the Adventure Card Guild
Short blog this week as preparation for Gen Con intensifies! Starting next week, all promo characters will be legal for play in the Pathfinder Society Adventure Card Guild organized play program. This means Ranzak, Ekkie, and Tup will be able to join in the fun at your local game store, convention, or even home play of the various Adventure Card Guild seasons.
More Paizo Blog
.
---
Tags: Adventure Card Guild Pathfinder Society
---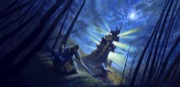 Rolling Up to Gen Con
There's less than a week until the Paizo crew arrives in Indianapolis for Gen Con 2016! If you're heading to the show, stop by the Paizo booth (#103), the Sagamore Ballroom where we'll be hosting the weekend's Pathfinder Society events, or catch Paizonians at a variety of events taking place throughout the show.
More Paizo Blog
.
---
Tags: Conventions Gen Con Gen Con 2016 Pathfinder Society Pathfinder Society Academy Ralph Horsley
---

So Much New Material!
Gen Con is in less than two weeks, and Paizo always pulls out the stops with new publications to wow the crowds in Indianapolis. This year we're bringing a big pile of exciting titles, including Pathfinder Roleplaying Game: Horror Adventures, Pathfinder Player Companion: Legacy of Dragons, and of course the much-anticipated Pathfinder Society Pawn Collection. You'll see even more at the end of August, with Pathfinder Player Companion: Haunted Heroes Handbook, as well as Pathfinder Campaign Setting: Planes of Power, which serves as a key sourcebook for the upcoming Season of the Stolen Storm!
More Paizo Blog
.
---
Tags: Conventions Dion Harris Pathfinder Society Pathfinder Society Academy Sebastian Rodriguez
---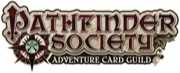 Season of the Runelords—The Story So Far
Time to catch you up on the story so far in Season of the Runelords! (There be plot spoilers below.) While I'm discussing SotRu, allow me to apologize for the persistent delays in its release schedule. We're working hard to improve the process for subsequent products, and the entirety of the season will be available for play at Gen Con.