Several months ago, among the earliest Lost Coast preview blogs, I revealed a few of the set's scaly denizens. This week we return from Gen Con with three more reptilian foes heading your way in November.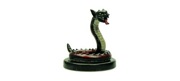 Here we have the weird-headed Goblin Snake, a vile creature that made its original debut way back in Pathfinder Adventure Path #1: Burnt Offerings, our very first Pathfinder product. As the Rise of the Runelords campaign that adventure kicked off takes place in Varisia's Lost Coast region, it seemed a fitting time to let this guy slither out from under the rockpile he's been hiding in over the last seven years. Goblin Snakes occupy the low end of the "heads on snakes" niche that places them as distant—if unacknowledged—cousins of the more powerful nagas. You can find their statistics on page 132 of the Pathfinder RPG Bestiary 3. The Goblin Snake is a Small, common figure.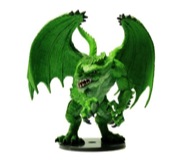 This not-so-little guy leaked out a few weeks ago when a canny retailer snapped a photo of one of my sales presentations, but here he is in all high high-res glory. What we have here is a particularly menacing Large Green Dragon, the latest in my quest to do all of the major dragons at all of the major size categories. We're a bit behind with Greens, but this guy is a good start and a fitting progeny for the Gargantuan Green Dragon case incentive for the Legends of Golarion set. The Large Green Dragon is a rare, Large figure.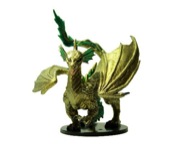 Metallic dragons seldom get the love of their chromatic brethren when it comes to miniatures (prepainted or otherwise), something we'd like to address with Pathfinder Battles. Here we have a striking Large Bronze Dragon to lead the charge for goodness. The Large Bronze Dragon is a Large, rare figure.
Feiya Update!
We had a series of very productive meetings with our partners at WizKids last weekend at Gen Con, and I'm pleased to report the final details of the replacement figures for the insufficient Feiya, Iconic Witch figure from the Reign of Winter set.
As I mentioned in previous Friday blogs, WizKids will replace badly painted Feiyas with better versions of the same sculpt through their normal figure redemption service at WizKids.com. Folks who want to swap out their figures one-for-one are encouraged to use that system. That said, sending your figures in to WizKids involves the time, effort, and expense of putting something in the mail, and WizKids wanted to put forth some extra effort to make things a bit easier for loyal supporters of the Pathfinder Battles line.
I'm pleased to report that for the next set, Lost Coast, every case of figures will include one "super pack" among the rest. In addition to the four standard figures in that pack, the pack will ALSO include a FREE copy of the revised Feiya figure.
IN ADDITION, that super-booster will also include a previously unannounced improved repaint of the much-maligned King Irovetti figure from Legends of Golarion, the figure that had, prior to Feiya, been the most disappointing slide from paint master to production figure. WizKids' figure replacement service will also handle requests for improved versions of that figure. I'll let everyone know in this space when the replacement figures are ready—they're at the factory now, so it's safe to assume they will be closer to the November release of Lost Coast set.
Both of these figures will be identical to their previous versions, albeit with vastly improved paint jobs. The base text and sculpts will be exactly the same.
And that's all I've got for this week. Stay tuned for more cool reveals next Friday!
Erik Mona
Publisher