In Monday's monster blog, Mark told you about some of the changes we made to monsters to make them more engaging and easy to run. So how did we turn all that into something you can use? Well, we put a lot of thought into making a new monster stat block that would be more concise, while remaining flexible enough that we can still keep a similar level of complexity for some of our most powerful and iconic monsters.
But let's start small. Well... big, but also small. You'll see.
So Now There's Ogres, Okay?
Oh no... what's that smell? It's like a gym bag ate roadkill!
Ogre Creature 3

Chaotic, Evil, Giant, Humanoid, Large

Perception +5, darkvision

Languages Giant

Skills +1; Acrobatics +4, Athletics +9

Str +5, Dex -1, Con +2, Int -2, Wis +0, Cha -2

Items hide armor, 6 javelins, ogre hook

---

AC 16, TAC 14; Fort +8, Ref +3, Will +5

HP 60

---

Speed 25 feet

[[A]] Melee ogre hook +10 (deadly 1d10, reach 10 feet, trip), Damage 1d10+7 piercing

[[A]] Ranged javelin +8 (thrown 30 feet), Damage 1d6+7
Ah, of course. It's an ogre! This is an example of one of the simplest stat blocks in the playtest. Ogres are big bruisers, and they don't have a whole lot of special actions to use. They play a role as big challenges for low-level groups and in groups as minions for higher-level threats, so having them be simple makes plenty of sense for how they're used in the game. You might notice that this stat block is shorter than a Pathfinder First Edition stat block. We think this will give us more room for other text in our bestiaries and adventures. Some elements went away because of rules simplifications, while other pieces of information, like organization and environment, will appear in the monster's text instead of in the stat block.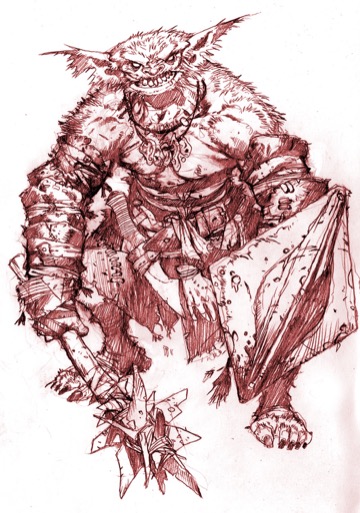 We don't have art of ogres or redcaps yet, but check out this illustration by Wayne Reynolds of a bugbear!
Quick reminder: the [[A]] symbol is code for "action," and it will have a special icon in the actual Pathfinder Playtest Rulebook and other products. You'll also see an [[R]] later to represent a reaction.
You can see how a stat block leads off with the creature's name and level, followed by its traits. These traits include its alignment and size. The top section of the stat block continues with the first stats you'll typically use, since you'll be determining whether the PCs and monsters can see one another (requiring you to use Perception), or the party might start out with an interaction (meaning you'll use the monster's languages and skills). The skills entry first lists a number you can use (in addition to the relevant ability modifier) for any skills the monster doesn't have listed, followed by a list of all the skills the monster has a different modifier for. So if you needed to roll an Acrobatics check for the ogre, you'll roll 1d20 and add 4, which is much better than its base modifier plus its Dex modifier (a total of +0).
You'll also notice the monster gives just its ability score modifiers instead of scores. This lets you make calculations more quickly, and since monsters don't increase their scores the same way PCs do, listing those is unnecessary. Monsters with items also list those up top.
There's a line to show where the monster's defenses start. Our ogre's pretty straightforward, with just ACs, saves, and Hit Points.
The next line separates the statistics and actions the monster can use on its turn. Here, that's Speed and the ogre's Strikes: an ogre hook and javelins! Even though the ogre doesn't have any special actions, it does have some special options due to its ogre hook. In parentheses, you can see the ogre hook's traits: deadly 1d10 (making it deal 1d10 more damage on a critical hit—ow!), a reach of 10 feet (letting the ogre attack past the first space), and trip (which lets the ogre trip using its hook instead of its body). Just as in Pathfinder First Edition, the reach comes from the ogre's size—the hook itself isn't long enough to increase reach.
So you can see the stat block is organized so that you're looking at the middle section when it's not the monster's turn, and at the bottom section on its turn. We think that will make it easier to use at the table, but we'd love to hear your feedback as you run these monsters during the playtest!
Blood and Boots
So how about a stat block that has a bit more going on? Here's a redcap: the nasty, brutal little fey with oversized scythes. This is a moderately complex monster. We won't be showing you any liches or pit fiends today, but the redcap will demonstrate how we present a few special abilities.
Redcap Creature 5

Evil, Fey, Small

Perception +10, low-light vision

Languages Aklo, Common, Giant, Sylvan

Skills +5; Acrobatics +13, Athletics +13, Deception +13, Intimidation +11, Nature +11, Stealth +13

Str +4, Dex +4, Con +4, Int +3, Wis +1, Cha +2

Items red cap, expert Medium scythe, iron boots

Red Cap (arcane, necromancy) A redcap's shapeless woolen hat is dyed with the blood of its victims. If the redcap loses its cap, it no longer benefits from fast healing and takes a -4 conditional penalty to its damage rolls. It can create a new cap in 10 minutes, but that cap doesn't grant its powers until the redcap has turned it red with Blood Soak. A cap has no benefit for creatures other than redcaps.

---

AC 20, TAC 19; Fort +8, Ref +11, Will +9

HP 55, fast healing 10; Weaknesses cold iron 5, irreligious

Irreligious (emotion, fear, mental) If a redcap sees a creature brandish a holy symbol of a good deity or use one for the Material Casting of a divine spell, the redcap must attempt a DC 17 Will save. On a failure, the redcap is frightened 4 and fleeing for 1 round; on a success, it's frightened 2; on a critical success, it's unaffected. To brandish a holy symbol, a creature must Interact to brandish it for 1 round (similar to Raising a Shield). Once a redcap has to attempt a save against a brandished holy symbol, it is bolstered against brandished holy symbols for the next 10 minutes.

---

Speed 50 feet

[[A]] Melee scythe +13 (deadly 1d10, trip), Damage 2d10+4 slashing
boot +13 (agile, versatile B), Damage 2d4+8 piercing

[[A]] Blood Soak (manipulate) The redcap dips its cap in the blood of a slain foe. The foe must have died in the last minute, and the redcap must have helped kill it. The redcap gains a +4 conditional bonus on damage rolls for 1 minute.

[[R]] Deadly Cleave

Trigger The redcap drops a creature to 0 Hit Points with a scythe Strike.

Effect The redcap makes another scythe Strike against a different creature, using the same multiple attack penalty as the scythe Strike that triggered this reaction. This counts toward its multiple attack penalty.

[[A]] Stomp The redcap Strides up to half its Speed and makes a boot Strike at any point during that movement. If the boot Strike hits a prone creature, it deals an extra 2d6 persistent bleed damage.
You can see here that the redcap has an ability to represent its blood-soaked hat, and that appears in the top section because it affects all of its statistics. You'll also notice the weakness to cold iron that comes from being a fey creature. One of the nice things about the new system of building monsters is that we can just give monsters the statistics we want them to have instead of sometimes building them in strange ways to get their statistics to be good. For instance, in Pathfinder First Edition, a fey might have had far more Hit Dice than expected to get its statistics high enough, which led to odd results from abilities that counted Hit Dice. Now, the redcap gets statistics that are suitable for its level and how it's used.
You can see the Irreligious ability is an example of a special ability that will come up when it's not the monster's turn. A redcap can be scared off by symbols of divinity!
In the bottom section, you see two special actions and a reaction. The reaction appears down here because the trigger is most likely to occur during the recap's own turn. You'll also see how some of the basic actions of the game end up being used in other actions. For instance, Stomp tells you that the redcap uses Stride and Strike. An ability like this lets you know any ways in which these actions operate differently than using them normally.
Spell It Out
How about just one more example for today? Let's look at how innate spells work. These are much like spell-like abilities from Pathfinder First Edition, but they function more like spells than they used to. The only difference between these and other spells is that the number of times the monster can cast them is based on the monster itself rather than on a spellcasting class. Innate spell entries look much like prepared spells, with a couple extra categories of usability. Here are some we stole from the efreeti:
Innate Arcane Spells DC 22, attack +17; Constant detect magic; 5th illusory object; 4th gaseous form, invisibility (×2); At Will plane shift (7th, to Elemental Planes, Astral Plane, or Material Plane only); Cantrips produce flame (4th)
The spell DC is listed right there, along with the attack bonus for touch attacks since the efreeti has produce flame. Illusory object is presented the same way a prepared 5th-level spell would be, as are gaseous form and the two spell slots of invisibility. Anything that doesn't come in a level entry is cast at its lowest level unless a level appears in parentheses. You can see that happening with the produce flame cantrip, which the efreeti casts as a 4th-level spell. Its detect magic is level 1, but that's a constant ability that functions all the time for the efreeti. The other special way a creature can use innate spells is with at-will spells. These are spells the monster can cast as many times as it wants even though they aren't normally cantrips. The efreeti can cast plane shift any number of times, but the parentheses tell you that it's the 7th-level version and that it can go only to certain planes.
What do you think of this take on monster presentation? Do you think it'll be easy to use these stat blocks in your game?
Logan Bonner
Designer