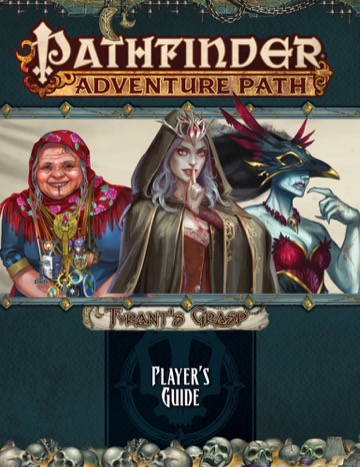 The free Tyrant's Grasp Player's Guide is now available! Troubled times lie ahead for the nation of Lastwall, and the root of these troubles lies in the small frontier town of Roslar's Coffer. A handful of heroes are caught up in these dire events, inadvertent bearers of legendary power destined to save or doom the world. Lastwall is known for its valiant paladins, pious clerics and warpriests, and brave fighters. Yet many other types of characters—including resourceful rangers, cunning rogues, powerful wizards, and canny inquisitors—are appropriate for the Tyrant's Grasp Adventure Path. This player's guide contains plenty of spoiler-free advice to prepare characters for the challenges to come.
In addition to character advice, this player's guide contains information on the nation of Lastwall and the town of Roslar's Coffer. Several campaign traits round out the player's guide, each providing a strong connection to the frontier town, but useful wherever the heroes' adventures lead!
Embrace your destiny to curtail the rise of undeath and evil! Download the Tyrant's Grasp Player's Guide today!
Ron Lundeen
Developer