I had to search extra carefully to locate this week's Iconic Encounter, thanks in no small part to the unmatched stealth of Merisiel, the iconic rogue! Enjoy the following piece of short fiction from James L. Sutter in the next entry into our series of Iconic Encounters—brief vignettes of the iconic characters showcasing the myriad stories you can tell with Pathfinder Second Edition.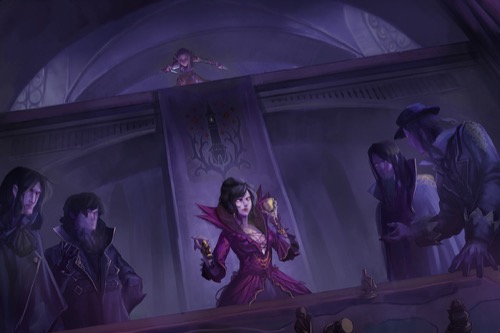 Illustration by Mary Jane Pajaron
Merisiel had heard enough. The targets, the timetables, the names of the operatives—she had everything she could need to properly foil their plan.

Below, the vampires stood around their map table, arguing over details. Merisiel itched to put knives in all their backs, but even with the element of surprise, she knew the only person she was likely to kill with such an attack was herself. Besides, it wasn't in the plan.

Unfortunately, what came next also wasn't in the plan. She'd arrived well before the vampires, and chosen the perfect hiding place in the subterranean cathedral's upper balcony. It had been a beautiful piece of infiltration work, if she did say so herself. Yet how could she have known that the head vampire's first order of business would be making her pretty-boy underlings move the map table from its original position to a new spot directly blocking Merisiel's exit? Who orchestrated a coup and then wasted valuable conspiracy time rearranging furniture?

Regardless, Merisiel was going to have to get creative. Given the vampires' ability to see in the dark, the shadows wouldn't be much help. And from their new positions around the table, no matter which way she tried to sneak past them, at least one would inevitably spot her long before she made it to the door.

Her gaze rose, taking in the vaulted ceiling.

Maybe...

Without further deliberation, she crept to the wall and began to climb.

It was a big risk—but then, what part of this caper wasn't? And for all the vampires' supernatural senses, they'd still started out as humans, which meant they retained a human mindset. And humans rarely looked up without a reason. Silent as a ghost, Merisiel picked her way across the ceiling, spidering over ancient frescoes of rulers long since turned to dust in the crypts below.

She was almost to the door when the fop with the perfectly tousled hair made an impertinent comment, earning a backhand from the leader. The slap knocked the vampire's head backward, tilting it at just the wrong angle. His eyes met Merisiel's and widened.

She dropped the last ten feet to the floor, rolling to distribute the momentum as best she could, and darted for the door.

They were almost too fast for her. A brace of knives flung backward slowed them enough to give her a lead, but she knew that would only buy her so much time—once they realized she wasn't packing silver, they'd lose what little caution they had.

She sprinted through musty stone corridors, the pack baying like hounds at her heels. The squad of spawn who'd been keeping lookout at the main entrance appeared in the tunnel ahead, and Merisiel dodged left around a corner, barely touching the stairs beneath her as she raced downward, deeper into the crypts.

Behind her, someone shouted about the sewers, realizing how she must have gotten past them the first time. She banked around another corner—

—and into a dead end. Half a dozen sarcophagi lay in niches around the circular mausoleum, the windowless walls covered in ornate Pharasmin prayers.

She whirled just in time to see vampires fill the only doorway. Recognizing her predicament, they grinned and took the time to form up, stalking forward slowly to savor the drama. Predatory eyes glowed with reflected light from the solitary torch.

"So. A spy." The dandy with the stupid hat sneered, baring a single long fang. "Perhaps not everyone in the court is as clueless as we presumed. Too bad they'll never hear your report."

"Oh, I wouldn't worry about that," Merisiel replied. "They already know all your plans."

"What?" It wasn't really possible for someone that pale to blanch, but he made a valiant effort.

"Yeah, see, I snuck in yesterday while you were all taking your coffin naps and copied your documents." Merisiel made a face. "Honestly, I know you're a little behind the times, on account of being dead and all, but you really need to invest in some better locks. I mean, poison needle traps? What am I—twelve?"

"She's bluffing." The leader shoved her way to the front and grabbed Merisiel by her armor's leather collar. She hauled the elf close, perfect face twisting in a cruel smile. "If you had done what you say, why would you risk being here now?"

Merisiel made no move to resist, only matched that smile with one of her own.

"The thing is," she said, "it just seemed like a shame to waste the opportunity. What with all of you being together in one place."

The sound of grinding stone echoed from every direction as lids slid from sarcophagi. Kyra and the other priests stood up from their hiding places, holy symbols already extended.

Merisiel closed her eyes as the blaze of holy light washed over her.
If you liked this week's Iconic Encounter, be sure to check back next Thursday for another exciting entry in the series. Until then, Pathfinders, may your heists go off without a hitch.
Mark Moreland
Franchise Manager