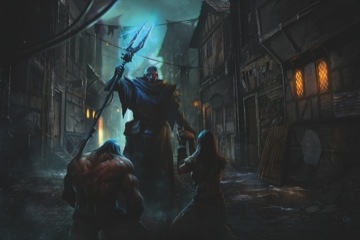 "Do you know about other worlds? Don't you believe the stars are only huge jewels?"
—
The Swords of Lankhmar
, Fritz Leiber
Illustration by Caio Maciel Monteiro
With the release of Pathfinder Adventure Path #85: "The Fires of Creation", the first adventure in the Iron Gods Adventure Path, I thought it was worth taking a moment to talk about the literary origins of mixing science-fiction elements into fantasy settings.
The origins of the Iron Gods Adventure Path itself are pretty clear. The seeds of advanced technology in Golarion go back to its inception, and descriptions of Numeria, Alkenstar, the Red Redoubt of Karamoss, and the Ruins of Kho have always included a level of technology much different than most of the rest of the Inner Sea. Golarion is a world where scraps of ancient lost technology exist in limited quantities, and it makes sense that at least one adventure path explore that aspect of the world. This follows a long tradition of mixing science fiction and fantasy elements in roleplaying games, dating back to near the beginning of the hobby.
The RPG hobby is in turn built on a long tradition of genre-blurring stories, dating back to at least the early 1700s. Earlier speculative fiction didn't mostly bother to define a difference between science fiction and fantasy. Jonathan Swift's 1726 novel Gulliver's Travels was written as a satire, but it is also arguably an early work of mixed science fiction and fantasy. Beyond the well-known fantasy races of Lilliputians and Brobdingnagians, protagonist Gulliver encounters many other places including both the flying city of Laputa (a city of pure scientific thought and clear antecedent of Kho), and a land of magicians (Glubbdubdrib) where magic largely replaces technology.
Although not the same as most modern fantasy, another common category of early speculative fiction that often blends advanced technology and magic is the "lost world" genre, where a modern character discovers a fantastic land unknown to the rest of civilization. In some lost world books the discovery is the result of an exploratory expedition (such as is the case for Jules Verne's 1864 novel Journey to the Center of the Earth, an early example of the genre), while in other cases the discovery is entirely accidental (as in Edward Bulwer-Lyrtton's 1871 novel Vril, the Power of the Coming Race).
Similar is the planetary romance genre, where the foreign land is generally on other planets. One can argue that Edgar Rice Burrough's Barsoom (from A Princess of Mars, and a series of novels that follow) is pure science fiction, with its airships and radium pistols, but the fact that most conflict is handled through swordplay reveals its fantasy roots. The blending of science and magic is even clearer in related stories by Burroughs, the most obvious example being "The Wizard of Venus," where planetary explorer Carson Napier learns extraordinary powers from the titular Venusian wizard.
Many novels of the 1930s-1970s combined fantasy and science fiction in one setting, often inspired by the tradition of Barsoom and the planetary romances. The fiction of Michael Moorcock is one of the original influences for fantasy RPG settings, and includes multiple cases of high science elements. Most extensively, the adventures of Hawkmoon (who, as an incarnation of the Eternal Champion, is connected to the better-known Elric of Melniboné,) take place in a world that appears to be a post-apocalyptic version of Europe. Magic is commonplace, but sorcerer-scientists also often have access to ancient advanced technology, including the Black Jewel, which is implanted into Hawkmoon by his enemies to monitor his movements. Ursula K. Le Guin's 1966 novel Rocannon's World has fewer directly magic elements, but does describe the travels of a scientist with advanced knowledge through an alien land of castes and swordsmen. Poul Anderson's 1961 novel Three Hearts and Three Lions presents a protagonist from the modern "real" world who ends up in a parallel world where magic and trolls are real.
Instances where science fiction elements enter an existing, established pure-fantasy setting are less common but far from unknown. Robert E. Howard's fantasy character Conan encounters an alien in the 1933 short story "The Tower of the Elephant." Fritz Leiber's quintessential rogue and barbarian team Fafhrd and the Gray Mouser run into a time traveler in his 1968 novel The Swords of Lankhmar. Time travel and planetary travel both come into play in C.L. Moore and Henry Kuttner's 1937 story "Quest of the Starstone," in which fantasy swordswoman Jirel of Joiry must deal with Northwest Smith, a smuggler and scoundrel hired from a tavern on Mars in her own far-flung future. (Those interest in seeing how that particular situation is resolved can read the story in Black God's Kiss, still available from paizo.com.)
The existence of fantasy tales that added a dash of high science is no reason for groups that dislike blending the two ideas to feel they must change their minds, but it is one of the reasons other groups love having the option to through a little more sci-fi into their fantasy games.
Owen K.C. Stephens
Developer