Pathfinder Module: Feast of Ravenmoor (PFRPG)
Paizo Inc.
(based on

19

ratings)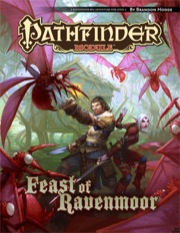 Show Description For:
Non-Mint
Add PDF $19.99
Print Edition Unavailable
Non-Mint Unavailable
An adventure for 3rd-level characters
For decades, the tiny village of Ravenmoor has existed quietly on the upper reaches of the Lampblack River, far from the centers of civilization in Varisia. Linked to the outside world only by an overgrown, mostly forgotten trail, the villagers are comfortable with their isolation. Their ways are humble, quaint, and at times odd, and when travelers come, they find the town awkward and unmemorable. Certainly, the lack of a village inn, the oppressive humidity, and the bug-infested moors and swamps that surround the village do little to encourage visitors. When a clerk in the city of Magnimar discovers that, due to a clerical error, the village of Ravenmoor hasn't paid taxes in years, a tax collector is sent to the distant community to settle accounts with its mayor. When the tax collector fails to return, however, a group of adventurers must travel to the town during its Founders' Feast celebration to investigate his disappearance. Did he really make off with the taxes for himself, as the villagers suspect? Or did he never make it out of Ravenmoor at all?
Feast of Ravenmoor is an adventure for 3rd-level characters, written for the Pathfinder Roleplaying Game and compatible with the 3.5 edition of the world's oldest RPG. It features a terrifying adventure set in a rural village in the frontier realm of Varisia, and a brand-new monster eager to torment and frighten unsuspecting adventurers.
Written by Brandon Hodge
Pathfinder Modules are 32-page, high-quality, full-color, adventures using the Open Game License to work with both the Pathfinder Roleplaying Game and the standard 3.5 fantasy RPG rules set.
ISBN-13: 978-1-60125-367-5
Feast of Ravenmoor is sanctioned for use in Pathfinder Society Organized Play. Its Chronicle Sheet and additional rules for running this module are a free download (217 KB zip/PDF).
Other Resources: This product is also available on the following platforms:
Archives of Nethys
Product Availability

---
PDF:
Fulfilled immediately.
Print Edition:
Unavailable
Non-Mint:
Unavailable
This product is
non-mint
. Refunds are not available for non-mint products. The standard version of this product can be found
here
.
Are there errors or omissions in this product information? Got corrections? Let us know at store@paizo.com.
PZO9533
---
See Also: