The Usual Suspects: Class Decks Preview
Gather round, Pathfinders. I've got some secrets to share with you. It's the story of an unlikely group of adventurers whose journeys took them into the Eye of Abendego, out to the Worldwound, and beyond. How does the story end? Well, that's up to you to decide...
More Paizo Blog
.
---
Tags: Adventure Card Guild Alex Tooth Class Decks Diana Martinez Eva Widermann Florian Stitz Jorge Fares Kostja Schleger Pathfinder Adventure Card Game Tim Kings-Lynne
---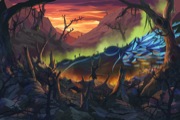 Superstars from Spaaaace!
It's no secret that the Pathfinder campaign setting includes a number of science-fiction elements, from the future-tech-wielding barbarians of Numeria to the crashed flying cities of the Shory in the Mwangi Expanse. Back in 2012, RPG Superstar contestant Mike Welham tapped into this underlying theme of the setting and ran with it, and his adventure proposal for Doom Comes to Dustpawn ultimately won the contest by a public vote.
More Paizo Blog
.
---
Tags: Alex Tooth Pathfinder Modules RPG Superstar Scott Murphy
---

NPCs on the March!
NPCs on the March! Monday, October 1, 2012 We're still a couple of months out from the release of Pathfinder RPG: NPC Codex, but all of the awesome art in that book refuses to be contained! Check out a sampling of 10 fantastically deadly characters by 10 fantastically talented artists. Also, be sure to watch this space in the coming weeks for in-depth previews of Pathfinder RPG: NPC Codex—releasing this December. ... F. Wesley Schneider ... Editor-in-Chief ...
More Paizo Blog
.
---
Tags: Alex Tooth Branko Bistrovic Chris Seaman Damien Mammoliti Jason Rainville Jorge Maese Lydia Schuchmann Mauricio Herrera Pathfinder Roleplaying Game Roberto Pitturru Scott Purdy
---