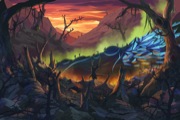 Illustration by Alex Tooth
It's no secret that the Pathfinder campaign setting includes a number of science-fiction elements, from the future-tech-wielding barbarians of Numeria to the crashed flying cities of the Shory in the Mwangi Expanse. Back in 2012, RPG Superstar contestant Mike Welham tapped into this underlying theme of the setting and ran with it, and his adventure proposal for Doom Comes to Dustpawn ultimately won the contest by a public vote.
The release of that adventure is just around the corner, and we wanted to show off some of the crazy-cool Superstar stuff you'll find within. First, there's a crashed spaceship leaking terrible things into the atmosphere, causing nearby farmers and townsfolk (and maybe the PCs) to have horrific dreams and even mutate into otherworldly abominations.
| | |
| --- | --- |
| Then there are the strange cultists who are also seeking the fallen spacecraft for their own sinister reasons. (Hint: it's not cause they're interested in scientific exploration.) | And I don't even know what to say about this guy other than that he's bound to send your PCs on something of a wild ride if they hope to survive their encounter with him! |
Illustrations by Scott Murphy
Doom Comes to Dustpawn by RPG Superstar 2012 winner Mike Welham is available for preorder now, and will be out in stores everywhere next week!
Mark Moreland
Developer