It takes dedication and resolve to stay true to one's principles, even when doing so is difficult or disadvantageous. No Pathfinder class more exemplifies this truth than the champion, whose sacrifices for her beliefs bring her incredible power, and no character better embodies the spirit of a champion than Seelah, the iconic paladin. Enjoy the following piece of short fiction from James L. Sutter in the next entry into our series of Iconic Encounters—brief vignettes of the iconic characters showcasing the myriad stories you can tell with Pathfinder Second Edition.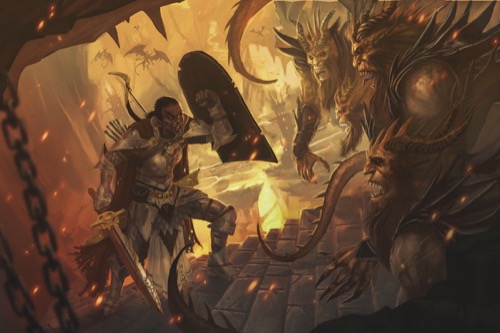 Illustration by Biagio d'Alessandro
The spirit in Seelah's blade sang, an angelic chorus that only she could hear. It surged triumphantly as she blocked another devil's glaive strike, paeans like invisible hands supporting her weary sword arm.

Around her, Hell seethed, its flaming pits and spiked chains everything the canon had described. Blistering winds heated her armor until it burned like a brand wherever metal touched exposed skin. Blood ran freely from dozens of cuts, the last of her strength trickling from infernal wounds that refused to clot. She was tired—so, so tired.

But there could be no rest. No retreat. Just ahead, Merisiel's unconscious body bobbed as if floating on a sea of devils. Seelah wasn't about to abandon the elf, even if it meant her own death.

After all, she'd followed her friends into Hell itself—compared to that, what was one more battle?

She grinned fiercely at the thought and shoved forward, knocking another wicked glaive aside with her shield. Above a beard of writhing barbs, the devil's eyes widened.

"Iomedae!" Seelah screamed and slammed her sword into the devil's chest.

Light burst from the strike, flowing over the devil in radiant fire. It stumbled sideways, skin flaking and disintegrating into holy illumination. The goddess's power clung to the fiend like honey as Seelah moved past it, striking left and right with righteous fury, making one last push to reach her friend.

The devils carrying Merisiel saw the paladin coming, their fellows falling like wheat before the reaper as she carved a path to them.

The one holding the elf's feet dropped them. Snarling something in the tongue of the damned, it raised its glaive, reversed it, and slammed the point home into Merisiel's chest.

Or tried to. As the blade descended, light shot from the crossguard of Seelah's sword, sliding between the murderous glaive and Merisiel's undefended chest to wrap the elf in a paper-thin shield of blazing glory. The glaive's tip slid sideways.

The devil looked up just in time to see Seelah's blade scythe in. Severed beard-tendrils scattered as the devil's head left its shoulders, bouncing down the endless steps toward the flaming chasm that had spawned it.

It was enough. The other devils broke at last, dropping Merisiel's body and scrambling up the steps toward the safety of their blackened keep.

Seelah knelt, putting a radiant hand to Merisiel's chest. The elf's eyes flickered open.

"Seelah?" Merisiel stared up in surprise. "You came back for me?"

Seelah smiled. "You should have more faith, Merisiel."

Somewhere above them, a horn sounded. Then another.

Seelah's smile faded. She stood, every muscle in her legs screaming, and hauled the elf to her feet. Merisiel hissed as her injured knee took the weight, and Seelah draped one of the elf's arms across her armored shoulders.

"Come on," she said, as they began hobbling back down the stairs. "Let's see if the goddess has one last miracle for us..."
If you liked this week's Iconic Encounter, be sure to check back next Thursday for another exciting entry in the series. Until then, Pathfinders, may all your strikes be retributive.
Mark Moreland
Franchise Manager