The Pathfinder Society team is always looking for ways to improve our relationship with friendly local gaming stores and offer things to help thank them for all they do in their support of both the Pathfinder Society Roleplaying Guild and Adventure Card Guild.
Retailers registered on paizo.com currently may receive a free Base Set for each Pathfinder Adventure Card Game adventure path in order to run Adventure Card Guild scenarios. Each week they also receive free copies of the Adventure Card Guild scenarios. And in the very near future, we plan on giving retailers access to the back catalog and all future scenario releases of the Roleplaying Guild scenarios.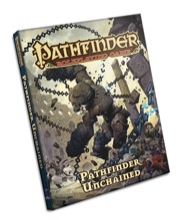 We're kicking off this plan with an exclusive quest for retailers on April 29! This quest is based on and utilizes content from our latest hardcover release Pathfinder Unchained. In the future, our plan is to provide more exclusive quests coupled with new hardcover rulebooks upon their public release.
In this initial launch, the Unchained quest will only be provided to registered retailers. The registered retailers may schedule it as many times and on whatever days as they like, and it will be store exclusive through the end of PaizoCon. After PaizoCon, it will be made available as a free download for everyone! It is the registered retailers' responsibility to provide printed copies of the Quest to GMs to run the event.
Although the onus is on the retailer to make the most of this exclusive quest, I encourage all of you to speak with store owners and help them make the most of this opportunity. If your local store is not a registered retailer on Paizo.com, point them to our Retailers page to sign up!
We hope that the start of this new program, with the help of our VOs, will generate more interest in retailer exclusive content. This program will allow players and GMs the opportunity to familiarize themselves with new hardcover rules content, while allowing retailers to highlight a new product and hopefully boost sales in their stores.
To round out our latest hardcover release, next week's blog will feature how Pathfinder Unchained is being integrated into Pathfinder Society. This blog will highlight all the information you need to not only have a successful product launch in store, but how it will be be utilized for the foreseeable future in organized play.
Please let us know what you think, and as always, thanks to all of you for making PFS as awesome as it is today!
Mike Brock
Global Organized Play Coordinator