Paizo offices and warehouse will be closed November 26th and 27th in observance of the Thanksgiving holiday.

There is No Certainty, Only Adventure!
Last week the Year of the Serpent kicked off at Gen Con 2015! Along with the Pathfinder Society Specials that tie into the new season, we ran tables of the latest releases: #7-01: Between the Lines, #7-02: Six Seconds to Midnight, and #7-03: The Bronze House Reprisal. These adventures have Pathfinder Society agents scouring the streets of Katapesh, on a crunch mission for rare reagents, and sending the Aspis Consortium the message that no act of aggression is going to go unnoticed. And since our Pathfinder Society team is still on the road heading back home, let's take this opportunity to show off some of characters you'll face at the start of the Year of the Serpent!
More Paizo Blog
.
---
Tags: Community Dion Harris Gen Con John Derek Murphy Marek Madej Pathfinder Society Pathfinder Society Scenarios Year of the Serpent
---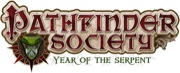 Year of the Serpent
Season 6 of the Pathfinder Society Organized Play campaign is coming to a close, and the Society has finally pieced together the Numerian relic that gave this season its name: the Year of the Sky Key. During the second of this year's interactive Specials, The Sky Key Solution, we're going to fire up the device and see what happens!
More Paizo Blog
.
---
Tags: Pathfinder Society Year of the Serpent
---