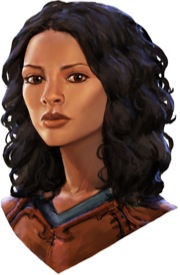 The Evergreen Desert
November's adventures fit two of the toughest kinds of scenario to write. The first is the load-bearing adventure, one whose contribution to the campaign's ongoing plotline is so central that it must work properly. The second is the Tier 1-2 evergreen scenario, which far and away sees the most play of any adventure during that season of Pathfinder Society Roleplaying Guild. I know that from replay alone, the latter needs to be especially clean, effective, and fun because so many people will see it—often again and again while taking characters from 1st to 2nd level. These needed some especially capable authors.
More Paizo Blog
.
---
Tags: John Derek Murphy Kim Sokol Pathfinder Society Pathfinder Society Scenarios
---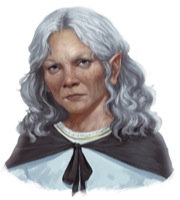 Three New Faces
This month the Pathfinder Society is sending PCs to two regions little explored by the campaign. The first is Tamran, an oft-assaulted city that serves as the capitol of Nirmathas in its ongoing conflict with Molthune. We've known that a Pathfinder lodge existed in Tamran for about a decade; in fact, that lodge's foundation is the reason that Molthune became so hostile to the Society (clearly the Decemvirate were picking sides). What was never clear was who operated it. When you play Pathfinder Society Scenario #7-07: Trouble in Tamran, you'll get a more formal introduction to Venture-Captain Oraiah Tolal. She's a fascinating character in part because she combines so many elements rarely seen in the canon roster of venture-captains: she's a divine spellcaster, her patron is one of the "minor deities," and she's a halfling. Of course, there's much more to her than aligning with a few in-world demographics, and I look forward to her giving more missions in the future.
More Paizo Blog
.
---
Tags: John Derek Murphy Marko Hovatin Pathfinder Society Pathfinder Society Scenarios
---

There is No Certainty, Only Adventure!
Last week the Year of the Serpent kicked off at Gen Con 2015! Along with the Pathfinder Society Specials that tie into the new season, we ran tables of the latest releases: #7-01: Between the Lines, #7-02: Six Seconds to Midnight, and #7-03: The Bronze House Reprisal. These adventures have Pathfinder Society agents scouring the streets of Katapesh, on a crunch mission for rare reagents, and sending the Aspis Consortium the message that no act of aggression is going to go unnoticed. And since our Pathfinder Society team is still on the road heading back home, let's take this opportunity to show off some of characters you'll face at the start of the Year of the Serpent!
More Paizo Blog
.
---
Tags: Community Dion Harris Gen Con John Derek Murphy Marek Madej Pathfinder Society Pathfinder Society Scenarios Year of the Serpent
---