Postcards From The Planes
Cities rise and fall alongside the civilizations that build them; some falling into ruin, some serving as the foundation for new settlements, and some weathering the test of time. Among the nations of humanity, some cities stretch back over 5,000 years of unbroken history, such as Taldor's opulent capital Oppara. To others who live upon Golarion, even this ancient metropolis might seem young, as the elves have civilizations that date back before Earthfall and dragons once ruled in the lands of Tian Xia while humanity was still in its infancy. And eons before even these legendary cities had the first stone placed for their foundations, there were cities among the planes that had already existed for tens of thousands of years. To venture into a planar city is to become part of a living, breathing community that has outlived the greatest of empires on Golarion—and perhaps were even founded before any living creature graced the surface of that world.
More Paizo Blog
.
---
Tags: Biagio d'Alessandro Federico Musetti Mary Jane Pajaron Pathfinder Campaign Setting Pathfinder Roleplaying Game
---

Enter the Land of Shadows!
Between the devil-bound nation of Cheliax and the storied realm of Varisia festers a land enveloped in gloom, where 10,000 years of obeisance to a fell god have warped the people and landscape into shadowy horrors beyond recognition.
More Paizo Blog
.
---
Tags: Federico Musetti Pathfinder Campaign Setting
---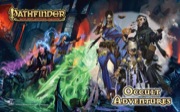 Occult of Indy
Many of us are heading out to Indy next week for Gen Con 2015. In the Paizo booth there will be a huge display made from Pathfinder RPG books, and the latest of them's going to be Occult Adventures. Here's a last preview at the fantastic art before it officially releases on July 29! See you in Indy!
More Paizo Blog
.
---
Tags: Caio Maciel Monteiro Estra Federico Musetti Iconics Igor Grechanyi Investigators Mariusz Gandzel Mavaro Meligaster Merisiel Mesmerists Occultists Pathfinder Roleplaying Game Quinn Rogues Spiritualists Subroto Bhaumik Wallpapers Wayne Reynolds
---