Reflections on Origins Game Faire!
My travels take me to many conventions during the year. I enjoy them all, mostly because I get a chance to meet our volunteers and fans. But Origins holds a special place in my heart. I had never attended Origins before joining the organized play team at Paizo, but I'm glad it is now a staple of my convention tour.
More Paizo Blog
.
---
Tags: Conventions Organized Play Origins Pathfinder Society Starfinder Society
---

Origins—Launching into a New Starfinder Society Season
From the first, the organized play team envisioned Starfinder Society as a stand-alone campaign. So when discussing season rotation, we looked for a way to give the event spotlight focus. Putting the launch at Gen Con would overload the team and possibly diminish the impact of the Pathfinder Society season rotation. So we looked to another large event that would have the scope to handle a season premier. Origins Game Faire, June 13-17 in Columbus, Ohio, met our desires. Thus we brought Origins under the umbrella of Paizo-organized conventions. But not only Starfinder Society benefits from the expanded Paizo focus. It also brings an opportunity to play Version C of the Solstice Scar ongoing interactive event and the chance to participate in some Pathfinder Playtest demos. Another benefit is added rewards for GMs, namely store credit for the paizo.com webstore, volunteer t-shirts, and a copy of a Pathfinder or Starfinder hardcover book, in addition to rewards offered in previous years such as hotel rooms and boons.
More Paizo Blog
.
---
Tags: Conventions Organized Play Origins Starfinder Society Starfinder Society Scenarios Year of Scoured Stars
---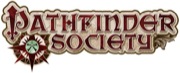 Final Countdown to PaizoCon 2017!
Everything is coming together for PaizoCon, which starts in a little over 2 weeks. The office is abuzz with final preparations as all of our departments pull together to bring this convention to our fans. Schedules posted on paizo.com last week and the signups are ongoing. Hurry and make your selections, as tomorrow is Lottery Day, how exciting! Some of the games on offer:
More Paizo Blog
.
---
Tags: Community Conventions Origins PaizoCon PaizoCon 2017 Pathfinder Society Pathfinder Society Scenarios
---