It seems like forever ago that we first introduced the iconic characters who have since come to embody the amazing adventures that make Pathfinder the beloved game it has become. First among them, was the iconic fighter, Valeros, who made his debut just over 12 years ago, on May 7, 2007. Since then, he's gotten a more thorough Meet the Iconics introduction, and featured in three Pathfinder Legends adventure path adaptations and nearly 50 issues of Pathfinder comics, making him one of the most omnipresent iconic characters around. That doesn't mean his story's over, however, as we've got another exciting tale featuring his antics below. Enjoy the following piece of short fiction from James L. Sutter in the next entry into our series of Iconic Encounters—brief vignettes of the iconic characters showcasing the myriad stories you can tell with Pathfinder Second Edition.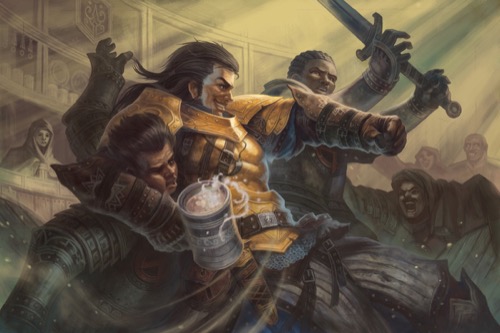 Illustration by Hai Hoang
The soldier had been staring at him from the corner for the last two drinks. Now at last she stood and moved his direction, plate armor hanging heavily from her broad shoulders.

Valeros smiled. Big was good—he liked a woman who could throw him around a little.

Then the two soldiers with her stood, and his smile faded. He could work with that if it came to it, but it wasn't really his first choice.

Then she reached into the shadows beneath a table and withdrew a greatsword, the steel sliding free of its sheath with a whispered song, and Valeros was forced to concede that maybe the night wasn't going his way after all.

"Valeros of Andoran," the woman thundered. "For crimes against the Empire of Cheliax, I hereby place you under arrest."

Damn. Valeros had seen the sigils on their armor, but they were a long way from Cheliax, and he'd thought she'd been interested in his hair, not his history.

He took a sip from his mug and eyed her sword. "I thought we were supposed to check our weapons at the door."

"You are," the woman said, and all three of the soldiers grinned wolfishly. "It makes our job easier."

Valeros sighed. He'd really been hoping for a different sort of tussle tonight. He sagged, folding his arms tiredly over the shield propped against the side of his chair.

"Well," he observed, "good thing this isn't really a weapon, then."

The shield's metal edge slammed up beneath the first soldier's chin, snapping his head back and sending him sprawling across a nearby table. Valeros's chair followed him, spinning out into the other two and fouling them up long enough for Valeros to slip his arm through the shield's leather straps.

He brought it back around just in time to catch the scything stroke of the woman's blade, barely managing to turn it aside. Beer sloshed from the mug in his free hand.

"Hey!" he yelled. "I paid for that!"

"You'll pay for more than that!" The woman hammered the sword down again. The force of the blow dented steel, sending a shock of pain up Valeros's shield arm, followed by a more concerning numbness.

"Yeah, to hell with this." Valeros rammed the shield into the woman's chest, pulling her backward. He started to take a swing at the other soldier, only to remember he still held his tankard. He turned the blow into an elbow strike, slamming his armor into the man's cheekbone.

The huge sword—and really, what kind of overcompensating barbarian fought with something that large?—struck again, crashing down like a falling tree. It was too much for the shield: one of the leather straps popped free, leaving Valeros holding the military equivalent of an oversized serving platter.

"Stupid shield!" Valeros flung it aside, then spun around behind the soldier with the busted cheek, grabbing him in a chokehold and putting him between Valeros and the swordswoman. "Meat's the best shield, anyway."

The swordswoman paused, calculating the probability of beheading Valeros without hurting her comrade. Or possibly evaluating how much she liked said comrade—Chelaxians were a tough bunch like that. Either way, it gave Valeros a moment to breathe, and he took the opportunity to take a drink from his tankard.

And got nothing. In growing horror, he looked down into the empty mug, then at the dark trail of beer across the sawdust-covered floor.

The last of his good mood slipped away. He squeezed his captive's neck tighter, leaning down to speak directly into the terrified soldier's ear.

"You broke my shield," he whispered. "That's annoying, but fixable. That beer, though..." He flexed, and the man's limbs began flailing frantically. "That beer is gone forever..."
If you enjoyed this week's entry into the Iconic Encounters series, be sure to check back next week for the series' conclusion with a story featuring the iconic goblin alchemist, Fumbus! Until then, Pathfinders, keep your shield ready and your tankards full.
Mark Moreland
Franchise Manager