Sometime in the next week or so, Ultimate Campaign will be shipping out to a game store or mailbox near you. In anticipation of the release of this 256-page hardcover, we are taking a look at what you can expect to find inside. In the past three weeks, we have looked at character backgrounds, the downtime system, and rules for the GM to add to their campaign. This week, we are looking at the final chapter of the book, Kingdoms and War!
Built from the popular rules found in the Kingmaker Adventure Path, this chapter takes those rules to the next level, giving you new options to allow your PCs to conquer any part of the world (or at the very least, declare war on the parts they cannot conquer). First up are rules for building and expanding a kingdom. These rules are a refined version from those in Kingmaker, but if you used those rules, these will be very familiar to you. The big thing we added here was a variety of new rules and options for your kingdom. We expanded just about everything from rulership types to buildings that you can construct in your cities. Here are just a few examples.
Bank 28 BP, 1 Lot
Kingdom Economy +4
Special Base value +2,000 gp
A secure building for storing valuables and granting loans.

Palace 108 BP, 4 Lots
Kingdom Economy +2, Loyalty +6, Stability +2; Fame +1
Discount Mansion, Mint, Noble Villa
Special Base value +1,000 gp; you may make two special edicts per turn (see page 229), but take a -2 penalty on kingdom checks associated with each special edict
Settlement Law +2
A grand edifice and walled grounds demonstrating one's wealth, power, and authority to the world.
What good is a kingdom if you can't declare war on your neighbors? To that end, we added the war rules from Kingmaker and expanded upon them. This system is not a tactical war simulation, but it works perfectly in a narrative game, with quick and simple resolution with meaningful results. We greatly expanded the sample units and armies in this section of the book as well. Take a look at a few of these stat blocks!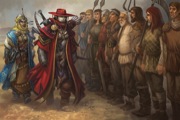 Illustration by Jim Nelson
Drow Army XP 400
CE Medium army of drow (warrior 3)
hp 3; ACR 1
DV 11; OM +3, ranged
Tactics dirty fighters, false retreat, sniper support, spellbreaker
Special darkvision, light sensitivity, poison, spell resistance
Speed 2; Consumption 1
Note +2 OM due to spell-like abilities

Tarrasque XP 102,400
N Fine army of one tarrasque
hp 93; ACR 17
DV 27; OM +21, ranged
Tactics defensive wall, relentless brutality, siegebreaker, spellbreaker, withdraw
Special cannibalize; fear; grab; immune to ability damage, bleed, disease, energy drain, fear, paralysis, petrification, and poison; low-light vision; regeneration 40; scent; significant defense; spell resistance
Speed 2; Consumption 8
Note +4 OM due to feats and monster special abilities
Well, that about wraps up our look at Ultimate Campaign. You should be able to find this book in stores very soon. Pick it up and expand your campaign!
Jason Bulmahn
Lead Designer