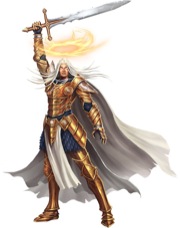 Illustration by Bryan Sola
Pathfinder Player Companion: Champions of Purity is on its way to stores and subscribers soon, and I thought I'd take this opportunity to point out some of my favorite parts of this book. While it has all the delightful crunch readers have come to expect in the Player Companion line (including new feats, magic items, spells, bardic masterpieces, subdomains, inquisitions, and a whole ton more I don't want to give away), the most exciting part about this volume for me is the careful and thought-out discussions regarding alignment and playing good characters. Some of the most interesting matters considered in this book include:
Explorations of the methodologies, advantages, and challenges of each good alignment. Examples of philosophies followed by characters of various good alignments ensure that no two chaotic good characters are the same, while suggestions on how to play alongside characters of opposing or conflicting alignments make certain your group doesn't fall apart just because the paladin caught the rogue stealing something.
Thoughts on putting good characters in bad situations and tips on how to handle moral quandaries as they apply to rules for characters such as paladins as well as for purely roleplaying purposes.
A discussion of redemption and how this might play into capturing villains both mortal and otherworldly. While that misled farmer stealing his neighbor's sheep might be redeemable, how does one go about handling a tiefling foe or even a crib full of goblin babies? Examples of possible penances and other ways characters might go about achieving atonement abound.
If you're tired of playing the same old lawful good holy knight or even just want to put a new spin on your chaotic good barbarian, Champions of Purity is an absolute don't-miss. Coming soon!
Patrick Renie
Developer