Force of Nature
Since people starting telling stories around the very first campfires, there have been heroes and villains who could shuffle off the coil of humanity in favor for something a little more wild, more primal, and more powerful. While shapechangers are nothing new in the Pathfinder Roleplaying Game, for the upcoming Ultimate Wilderness, we wanted to present a new take on the old trope—the shifter.
More Paizo Blog
.
---
Tags: Pathfinder Roleplaying Game Shifters Ultimate Wilderness
---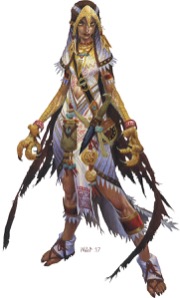 Meet the Iconics—Zova
Zova's parents saw it coming, of course, well before she made clear her intention to travel the world and seek its wonders. They worried for her safety, but they also knew that of all their children, Zova's passion for life, her respect for the natural world, her keen perception, and her almost uncanny knack for getting the upper hand in a fight made her the best suited to leave the proverbial nest. Despite her awkward place in the clan, she still loved her family and adored her home, and promised to return as often as she could—and to bring stories of marvels from her adventures when she did.
More Paizo Blog
.
---
Tags: Iconics Meet the Iconics Pathfinder Roleplaying Game Shifters Ultimate Wilderness Wayne Reynolds
---