You're Gonna Flip Over These Tiles!
You're Gonna Flip Over These Tiles! Friday, January 19, 2018 I have a secret to share: change isn't always bad. This spring we are making a significant change to one of our Pathfinder Maps lines. Pathfinder Map Pack: Starship Decks is that last of the Pathfinder Map Pack line. But don't fret, we are not giving up on modular mapping tools, they are just getting an upgrade. We are replacing Map Packs with a new line of maps called Pathfinder Flip-Tiles!This new line launches...
More Paizo Blog
.
---
Tags: Pathfinder Accessories Pathfinder Maps
---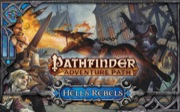 There's Adventure in the Air—September and Winter 2016 Releases
Today the skies are shining overhead in Redmond, where in the Paizo office we've been recovering from a busy and exciting convention season. But we all know and feel the loom of pumpkin spice, sweaters, and clouds that's ahead from our respective desks. And if your group is anything like mine, the end of September marks the start of regular game nights. And what better to kick off this glorious season by revisiting the Pathfinder related releases headed your way?
More Paizo Blog
.
---
Tags: Ekaterina Burmak Iconics Licensed Products Pathfinder Accessories Pathfinder Adventure Card Game Pathfinder Adventure Path Pathfinder Campaign Setting Pathfinder Comics Pathfinder Licensed Products Pathfinder Maps Pathfinder Modules Pathfinder Player Companion Romanov Pavel Shamans Shardra
---