To the Society's Success in 2018!
When we thought of the topic of today's blog, we intended it to cover a variety of topics. But as we started writing, there were so many fantastic scenarios to highlight that the words just kept coming. So instead of splitting focus, I'll save my words for next week and turn the keyboard to Organized Play Lead Developer John Compton, as he summarizes the highlights from our 2018 Society products. To all our players worldwide, thank you for making our communities vibrant places of play. Cheers and Happy Holidays!

Concluding Season 9, Heralding Season 10
Every year, the number of scenarios released for Gen Con is huge, especially since it typically combines all the scenarios for July and August at once. This year's been an exception insomuch as the number of scenarios is positively immense with 15 different adventures across four different campaigns: 6 Pathfinder Society scenarios, 4 Starfinder Society scenarios, 3 Pathfinder Society Playtest scenarios, and 2 Pathfinder Adventure Card Guild adventures! It's so much that we're breaking our preview blogs into three different posts.
More Paizo Blog
.
---
Tags: Akim Kaliberda Benjamin Widdowson Hannah Boving Maja Djeke Marko Horvatin Organized Play Pathfinder Society Tom Ventre
---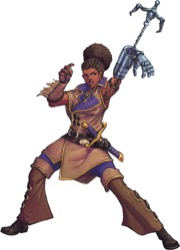 Warp Not, Waste Not
Golarion is filled with adventurers from sleepy villages and pristine cities who spend their days navigating the labyrinthine social structures of society. In fact, there are a host of Paizo books filled with Pathfinder player options to support and encourage just those kinds of characters and stories.
More Paizo Blog
.
---
Tags: Benjamin Widdowson Pathfinder Player Companion
---

Your Personalized Armory
I had the pleasure of working on this month's highly anticipated Pathfinder Player Companion release, Adventurer's Armory 2. It had been a few years since I developed a player companion, and I was excited for the chance to tackle the follow-up to the most popular product in the line to date, Adventurer's Armory. No pressure, right? Luckily, I wasn't going it alone. As discussed last week, the inimitable Ron Lundeen did a thorough pass on the book before it ever hit my desk, leaving me that much more time to really delve into the most exciting elements of the project.
More Paizo Blog
.
---
Tags: Benjamin Widdowson Pathfinder Player Companion
---

Of Packages and Poppets
As Adventurer's Armory 2 is now hitting shelves and downloads everywhere, I wanted to talk about two of my favorite sections. Mark Moreland has been like my Yoda through this process, and he is going to pen a follow-up Adventurer's Armory 2 blog where he rolls up his sleeves (like on a spider-silk bodysuit, page 6) and pulls back the veil (as found in dancer's garb, page 29) on getting the most out of this book (such as any of its 8 new equipment tricks). So I won't steal his thunder (as delivered by a stormshaft javelin, page 9). Okay, no more games (like the imperial conquest board game, page 29).
More Paizo Blog
.
---
Tags: Benjamin Widdowson Forrest Imel Pathfinder Player Companion
---