To the Society's Success in 2018!
When we thought of the topic of today's blog, we intended it to cover a variety of topics. But as we started writing, there were so many fantastic scenarios to highlight that the words just kept coming. So instead of splitting focus, I'll save my words for next week and turn the keyboard to Organized Play Lead Developer John Compton, as he summarizes the highlights from our 2018 Society products. To all our players worldwide, thank you for making our communities vibrant places of play. Cheers and Happy Holidays!

Concluding Season 9, Heralding Season 10
Every year, the number of scenarios released for Gen Con is huge, especially since it typically combines all the scenarios for July and August at once. This year's been an exception insomuch as the number of scenarios is positively immense with 15 different adventures across four different campaigns: 6 Pathfinder Society scenarios, 4 Starfinder Society scenarios, 3 Pathfinder Society Playtest scenarios, and 2 Pathfinder Adventure Card Guild adventures! It's so much that we're breaking our preview blogs into three different posts.
More Paizo Blog
.
---
Tags: Akim Kaliberda Benjamin Widdowson Hannah Boving Maja Djeke Marko Horvatin Organized Play Pathfinder Society Tom Ventre
---

New Scenarios: Over the Mountains and Through the Woods
Spring has arrived, and that means that the Organized Play team is in full gear preparing for convention season. Tonya talked about some of the exciting offerings we have coming up next month at PaizoCon in last week's blog, so if you haven't seen that yet, I recommend checking it out. I've attended PaizoCon for the past six years, and I've always had a wonderful time. Sometimes I play pretty much the whole time, sometimes I GM more, and other times I keep my schedule light so I can focus on meeting new people and reconnecting with old friends, but I've always found it well worth the trip.
More Paizo Blog
.
---
Tags: Hannah Boving Organized Play Pathfinder Society Scenarios Sebastian Rodriguez
---

2017, A Big Year for Pathfinder Society
Every year goes by so quickly, yet every year I end up looking back and realizing just how long it's been—and how much we've accomplished—since January. 2017's no exception. All the work that went into getting Starfinder Society going, we've been keeping busy bringing you more stories, adventures, art, and memories in Pathfinder Society Roleplaying Guild. While we've enjoyed all of the scenarios, there's a handful that I feel really defined 2017.
More Paizo Blog
.
---
Tags: Akim Kaliberda Giorgio Baroni Hannah Boving Josef Kucera Organized Play Pathfinder Society Pathfinder Society Scenarios Sebastian Rodriguez Tom Ventre
---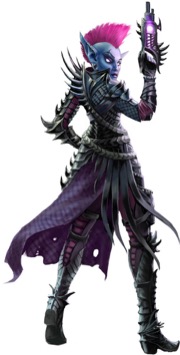 We Were Professionals... Civilized!
This month sees the Starfinder Society Roleplaying Guild release its first Tier 3-6 scenario: Starfinder Society #1-06: A Night in Nightarch. Adventure Path author and overall prolific freelancer, Mikko Kallio, stepped up to the plate to tackle this first foray into higher level Starfinder play. I had the pleasure of working alongside Mikko on the Ruins of Azlant and War for the Crown Adventure Paths, and I knew from that point that I wanted to bring him onboard for Starfinder Society.
More Paizo Blog
.
---
Tags: Hannah Boving Organized Play Starfinder Society Starfinder Society Scenarios
---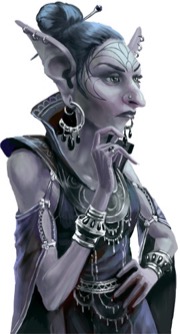 Adventures in the Isles
2017 has been a busy year so far! Tonya recently announced our revised Retail Support Program to provide boon support to public, non-convention events. Linda and I are busily outlining and assigning the rest of Season 8, we've locked in Season 9, Linda's made tremendous strides in updating our FAQ, and we're preparing the next batch of scenario product pages—including at least one surprise for an upcoming convention. The team's also enjoyed incorporating significant crossovers between the Pathfinder Society Roleplaying Guild and the Pathfinder Society Adventure Card Guild, including some fun Adventure Card Guild developments to the Scarab Sages narrative in the ongoing Season of Plundered Tombs. On top of that, we're busily flying around the country to meet with organized play communities in person, with Tonya having attended DunDraCon in San Ramon, CA this past weekend and Mark and Linda attending TotalCon in Marlborough, MA next weekend. On top of that, I've been helping out on several cross-department collaborations that I imagine we'll announce a few months from now.
More Paizo Blog
.
---
Tags: Hannah Boving Pathfinder Society Pathfinder Society Scenarios Sebastian Rodriguez
---