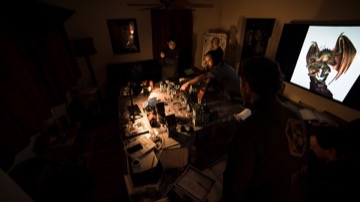 On the trail of the person who condemned them to an asylum with no memory of their former selves, the Order of the Amber Die tackles the fourth adventure of the Strange Aeons Adventure Path. It looks like they had a great time (as usual), and this time around it was great to read the live tweeting from the Order's newest member—former Paizo intern Savannah Broadway.
Here's their report from their marathon experience with Pathfinder Adventure Path #112: The Whisper Out of Time! As always, proceed with caution if you are playing in this Adventure Path or planning to do so, as spoilers may lurk within the following words.
After reaching the Taldan port city of Cassomir and recovering from the madness that plagued several of our party members, our group was eager to chase Count Lowls further into this Adventure Path. We knew we were in for a long run when our GM booked an extra day for this marathon. We ended up setting an Order of the Amber Die record, staying in the same house for 93 hours, and playing over 60 of those. We also saw three of Golarion's signature cities, and traversed nearly 800 miles.

Making this marathon even more significant for us was the return of Savannah Broadway, taking the role of Winter Klaczka and leading "Winter's Wolves" to victory once again. We opened up the first night of play with an official draft ceremony, fully inducting Savannah into the Order—our first new member in three years! After presenting her with an official Order of the Amber Die jersey, it was time to settle in for a few days of Pathfinder.

To keep us fully immersed, we used AdventureScents to overwhelm our olfactory senses with the myriad smells of an alchemist's lab, followed by the moldy paper of an ancient library. For the streets of Cassomir, we combined buildings from Custom Kingdoms with a 4 ft. x 6 ft. gridded cobblestone battlemat from Deep-Cut Studio.

Highlights from The Whisper Out of Time

In the top floors of an old infirmary, we chased a three-armed derro vivisectionist through a maze of skin. Enough said.
Searching for the Mysterium, one of the oldest libraries on Golarion, we rolled into majestic Katheer to the sounds of Mosavo's "Mystic Caravan." While many dungeons we've crawled have contained a library, in this adventure the largest dungeon was a library.
Before we could figure out how to shut off the Mysterium's warped defense system, we faced packs of hounds—of Tindalos! Sixteen slain was the number, with MVP Quinn taking on four at once in a plan gone awry.
Going into this adventure, we knew we'd be up against author Richard Pett. Gaming convention crowds and the Paizo messageboards helped confirm that with Xanesha from Rise of the Runelords, he possessed perhaps more TPKs than any contemporary author. Though we managed to best her in 2014, Xanesha still put 4 of our iconics in the ground. Pett delivered again in this adventure. In the extradimensional heart of the library, we faced off against a corrupted archon known only as "The Keeper," who shook off three banishments and two hold monsters while draining over 20 ability points on round one. At a critical moment, he succumbed to the 1st level spell ill omen, and we managed a clean game.
In Okeno, we had to navigate a difficult parley with the Hyena Princess Njano. Since two members are lawful good, our party tried everything—which meant slipping into her milk bath to discuss terms.
On the rooftop of a gnoll fortress known as Blossoming Thorn, we got ourselves into the largest melee of the campaign thus far. An airwalking Quinn engaged Biting Lash, one of the most notorious slavers in the Yellow City. At the same time, Erasmus took on her bodyguard, scimitar versus scimitar. Alahazra slowed the reinforcements with bursts of radiance, while Winter provided Pharasma's blessing through Fateful Channel. As Feiya engaged their enemy sorcerer in an arcane duel, Daji jumped into the scrap by going after Biting Lash's eagle animal companion. Just as we were about to be overwhelmed, we grabbed our quarry and called for the teleport extraction. Mission successful.

The Experiment

We kept hearing creepy whispers and a strange bell throughout the adventure. We've gotten so used to the unexplainable in this Adventure Path, that we just wrote them off as more Lovecraftian enigmas that will be revealed in time.

Character Deaths

It turns out the cult of Hastur was more widespread than we thought. Cultists hunted us through the damp streets of Cassomir, leading to two deadly ambushes that resulted in casualties amounting to: several townsfolk, a byakhee, a few dire bats, a keeper of the yellow sign, and some members of the city guard. With the help of our cult hunter, we fought our way out of their tentacles, but lost Feiya both times.

Best Quote from Marathon 4

Alahazra (after slaying a Dark Young of Shub-Niggurath): "We just pissed off a Great Old One."
Winter (in a Russian accent): "It is having a thousand young, I don't think it is going to miss one..."

Current Situation

We've exchanged dark and fog-shrouded Ustalav for more sun and heat than we ever expected coming into this AP. Armed with a map, ample supplies, and gnoll guides provided by the untrustworthy slaver named Biting Lash, we're headed deep into the Parchlands of Casmaron for part five. Semi-finals, here we come!

More Content

Read through the entirety of The Strange Aeons Experiment.

For character builds, questions about Strange Aeons, content and more, see our thread here on the messageboards.

Give Order of the Amber Die a Like on Facebook and follow us on Instagram for more!
So, they made it through and are on the move again. Tune in next time to see if they can survive the Parchlands and the mysterious ruined city of Neruzavin.
Adam Daigle
Developer