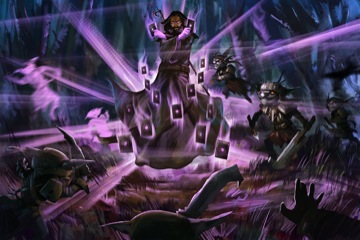 Illustration by Cristian Chihaia
For years the Harrow has been the domain of home games, literature, and lore, but due to a combination of the soft time limits inherent in organized play, the range of ways in which someone might cheat with a deck-based mechanic, and a wealth of other considerations that predate my work at Paizo, most Harrow-based options were never allowed. When Mike and I heard that Pathfinder Player Companion: The Harrow Handbook was on the product schedule, we started pondering how we might share as much of this book as possible with the campaign. We bounced ideas off a lot of folks, and in the end we decided to make legal nearly everything in the book as well as several previously banned Harrow character options such as the harrower prestige class from Pathfinder Campaign Setting: The Inner Sea World Guide and the oft-requested Deadly Dealer feat from Pathfinder Player Companion: Varisia, Birthplace of Legends. Expect an update to the Additional Resources page that includes these additions.
Excited? Me too!
Let's discuss some ground rules for Harrow use in Pathfinder Society Organized Play. These are intended to keep Harrow use from bogging down gameplay while also providing GMs some assurance that everyone's playing fair and showing off the beautiful new version of the Deluxe Harrow Deck.
Using a Harrow-based character option that involves drawing one or more cards at random requires a physical Harrow deck. Substituting another deck of cards or using the dice-rolling option (such as the one presented in the harrower prestige class) is not an option. If you aren't using a character option that does not change based on which card you draw (such as just throwing cards with the Deadly Dealer feat), you do not need to have a physical copy of the Harrow deck.
When you are using a class ability that involves drawing one or more cards at random, the GM always has the option to cut the deck before you draw from the top. This is just a quick consideration to minimize cheating. The GM can also examine your deck at any time, particularly if she believes there's anything wrong with your deck.
Be considerate when performing a Harrowing. Many Pathfinder Society games are run in 4—5 hour time slots, so taking 10 minutes to perform an in-character harrowing might not be an option. Be prepared to flip cards, record results, and move on if the group is operating on a time limit. So long as you're exercising common sense and courtesy, there shouldn't be anything more to discuss here.
Lots of great options are about to be available. Go make something fun!
Happy gaming,
John Compton
Developer