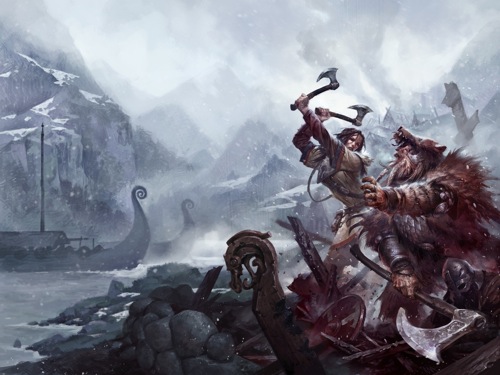 Illustration by Michal Ivan
Due to the holiday madness, your regularly scheduled web fiction—Chris Willrich's adventures of Gideon the bard, star of The Dagger of Trust—has been postponed for two weeks, but I couldn't pass up the chance to talk about Pathfinder Tales. Specifically, I want to show off the cover art for Wendy N. Wagner's book Skinwalkers, which comes out in late February.
We've had a lot of great covers over the years, but I won't lie: Michal Ivan knocked this one out of the park, and created hands-down my favorite cover Pathfinder Tales has ever had. His vision of Jendara is one of the most badass heroines I've ever seen, from the messy braid all the way down to the skull and crossbones tattoos on the backs of her hands. Yet at the same time, she also looks realistic—there's no over-the-top comic book superhero here, just a pissed-off Viking mother ready to show a raider why you do not mess with the people of the Ironbound Archipelago. Similarly, the cold, forbidding beauty of the mountains and longships in the background perfectly matches my vision of the Lands of the Linnorm Kings.
Of course, if you want to know why Jendara's kicking ass in the frozen north, you can preorder Skinwalkers today!
James L. Sutter
Fiction Editor/Senior Editor