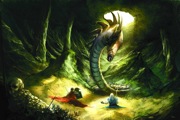 Gold Fever!
... Gold Fever! Monday, February 8, 2010As I write this the finishing touches are going in on our newest Pathfinder Module, City of Golden Death, the climactic conclusion to the Price of Immortality campaign arc. Written by our own Events Manager, Joshua J. Frost, the adventure takes the PCs to the notorious Isle of Terror, where they'll face agents of the Living God Razmir, ageless menaces from ancient Thassilon, the undying machinations of the Whispering Tyrant himself, and even greater...
More Paizo Blog
.
---
Tags: Andres Espara Animals Dragons Ezren Iconics Jorge Maese Merisiel Monsters Paladins Pathfinder Modules Rogues Seelah Undead Wallpapers Wizards
---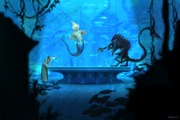 River Kingdoms of the Fellnight Queen
... River Kingdoms of the Fellnight Queen Friday, January 29, 2010It's a busy week here at Paizo, and that means it's time for an art blog! So enjoy this sneak peek at some artwork from the upcoming Pathfinder Module Realm of the Fellnight Queen and Pathfinder Chronicles: Guide to the River Kingdoms! ... Illustration by Andrew Kim ... Illustration by Jorge MaeseIllustration by Andres Espara ... Sean K Reynolds ... Developer, Pathfinder Chronicles and Pathfinder Modules ...
More Paizo Blog
.
---
Tags: Andres Espara Andrew Kim Bards Centaurs Elves Fey Halflings Iconics Jorge Maese Lem Merfolk Monsters Paladins Pathfinder Campaign Setting Pathfinder Modules Plants River Kingdoms RPG Superstar Sahuagin Seelah Wallpapers
---