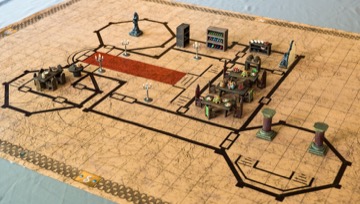 "It was all the same dream, a dream that you had inside a locked room, a dream about being a person. And like a lot of dreams, there's a monster at the end of it."—Rust Cohle
It's been a long and dangerous delve into madness for the stalwart folks in the Order of the Amber Die, but they successfully made it through the Strange Aeons Adventure Path in six weekend-long sessions. Here's the Order of the Amber Die returns to give us a recap of their last session and share some collected stats on their entire run of this campaign. If you haven't been reading this series of blogs, catch up by reading Part 1, Part 2, Part 3, Part 4, and Part 5.
As usual, spoilers about, so proceed with caution!
Entering the grand finale of an Adventure Path—especially one played in front of the community—comes with plenty of trepidation and nostalgia. Our opening evening of marathon six was emotional, and we spent it reminiscing about some of our favorite moments in Strange Aeons. As our membership is spread across the country, even if we achieved victory we'd be saying goodbye to our characters and each other for what could be months or years; with fifteen active members, we've had some overlap but never the same roster in any project.

To help bring this marathon experience to life, our GM tapped another member as a live-NPC for the role of the mute musician Erich Zann, and we were joined once again by Savannah Broadway in the role of NPC Winter Klaczka. We also had plenty of props and music for the dark cabaret we would encounter in Paris, and actual wine labels for the bottles of Ruby Artemesia that would feature at a sinister gala.

For Pathfinder Adventure Path #114: Black Stars Beckon, the entire marathon session was 104 hours long with 63 hours and 15 minutes of session hours.

Highlights From Black Stars Beckon

We needed to perform three rituals in order to sever Carcosa's connection to Golarion; these were lengthy, left us vulnerable, and worse yet: drew the attention of Great Old Ones. During our second ritual, a ghastly dream manifestation of Xhamen-Dor emerged to disrupt our casters. Erasmus, despite still suffering from the possession corruption, put his occult skills on display with entrap spirit—instantly ending the fight before it began.
The strangeness of this Adventure Path reached new levels with Carcosa's patchwork of cities stolen from different times and planets, but by this point we had found ways to embrace it. We invited ourselves to a vampire ball in ancient Azlant, where we threw caution to the wind and partied like it was -9999. Later on, we popped in on a cabaret full of Leng ghouls in 1890s Paris, where we sipped champagne and basked in the ambiance of La Belle Époque.
To reach our goal in an ice-enshrouded elder thing city, author Jim Groves challenged us with an old-school numbers puzzle that almost stopped the campaign. Immersion is important to the Order, so our GM wasn't ready to let us off the hook with an intelligence check. After two hours the group broke for sleep, leaving Sterling (Alahazra) alone with our notes. When we woke up the next morning, he had solved it.

The Experiment

From otherworldly horror to the research rules, dream quests and occult rituals, this path just felt different from standard Pathfinder—which was exactly what we loved about it. Regarding the results of our experiment, we were all in agreement that not only can Strange Aeons be played by complete rookies to the Elder Mythos, but that we may have had the better deal by doing so!

Character Deaths

When Adam Daigle opened his introduction to Black Stars Beckon by apologizing for killing our characters, it helped us to consider PC-demise from a lighter perspective. With our group having regular access to breath of life, a cauldron of resurrection, and even wish, mortality was no longer an issue; with a number as high as sixteen, even death died.

Best Quote From Marathon 6

Cold silence before a gunfight in the cabaret.
Feiya: "Any ghoul that doesn't wanna get killed, better clear on out the back."

The Strange Aeons Adventure Path by the Numbers

All of us went to great effort to track data throughout the entire Adventure Path, and we are proud to present the results of that effort here:

Total marathon hours: 581
Actual session hours: 357
Longest single session: 19 hours, 45 minutes
Real-life months passed: 10
Days passed on Golarion/Carcosa: 248
Highest DC reached on a skill check: 55 (Quinn)
Occult ritual record: 9-1
Teamwork Feat: Shake It Off. Total preventative uses: 101
Group-consensus on most valuable skill: Knowledge (dungeoneering)
Caffeine consumed from Monster energy drinks: 45,216 mg

Feiya's Channel Energy

Uses: 145
Healing living creatures: 116 uses, 6,738 hit points
Harming undead creatures: 29 uses, 469 damage

Quinn's Inspiration

Points spent: 244
Free uses of inspiration with skill checks: countless

Alahazra's Revelations

Erase From Time

Attempts: 37
Successes: 9

Temporal Celerity
Aging Touch

Total uses: 18
Successful uses: 10

Rewind Time

Total uses: 9
Conversions from failure to success: 4

Time Sight

True Seeing: 12
Moment of Prescience: 3

Erasmus's Spirit Surges

Total uses: 37
Champion spirit: 32
Hierophant spirit: 4
Trickster spirit: 1
Conversions from failure to success: 28

GM Stats

Most common enemy abilities used: confusion, fear
Strongest party-defenses faced: freedom of movement, find fault, particulate form
Highest enemy full-attack damage: 220 (graveknight)
Marathon prep hours: ~540
Random encounters: 22
Breaks taken during the Adventure Path: 1

How it Ended

Atop a rain-soaked tower surrounded by a massive yellow sign, we faced off against Ariadnah the lich and the abomination that Count Lowls had become. Things got off to the kind of start you hope you'll never experience when playing for a championship. We lost two characters on the opening round, with Feiya dropped by a horrid wilting and Winter removed by a maze. The room was silent. We had to block out what was happening, find a way to rally, and do what any team might do in this situation: a Hail Mary. Alahazra threw it in the form of disintegrate, and the lich caught it in the face with a natural one. A few rounds and seven (consecutive) successful saving throws later, we were in a position to win. When the dust of victory finally settled, only Erasmus and Quinn were left holding the belt of Strange Aeons.

More Content

Read through the entirety of The Strange Aeons Experiment.

For character builds, questions about Strange Aeons, content and more, see our thread here on the forums.

Give Order of the Amber Die a Like on Facebook and follow us on YouTube or Instagram for more!
Adam Daigle
Managing Developer