Several onlookers cursed the driver as he forced the Red Carriage into their midst, but the crowd parted. My footman opened the door, and I stepped out.
The common folk lowered their heads. They muttered "My lord" with varying degrees of resentment. Fortunately, none required the intercession of my footman, whose slight frame and timid demeanor made him a poor substitute for my recently deceased bodyguard.
I moved forward for a better view of the duel.
Within the crowd stood a circle of eight swordsmen, all but one pressing kerchiefs to fresh wounds. The uninjured man appeared three decades older than the others, a swatch of gray at either brow. The fencing master was of a height with me, placing him a few inches above the younger men. Unlike his curious pupils, he did not turn at my arrival. His gaze was locked upon the duelists inside the ring.
One was a Varisian, native to the region, the other Chelaxian, like my mother. Neither had yet seen twenty years.
A week's stubble obscured a fresh snake tattoo wreathing the Varisian's head. Its design marked him as Sczarni, one of his people's criminal class. He glanced at me, and the tip of his small sword drooped. The trident dagger in his other hand wavered.
His opponent beat his blade out of line, lunged, and pricked the man's scalp before he could retreat. The wound left a red tear beneath the serpent's eye.
The Sczarni retreated, hissing as he restored his guard.
"Yield?" The young Chelaxian smiled with such insolence that only a craven could accept. He raised his chin, whipping his bravo's topknot like a flag.
The Sczarni danced to the left, circling in the fashion of a knife-fighter. The flashy maneuver had several weaknesses, I noted, not the least of which was that the quick steps made him vulnerable to a sudden rush.
The Chelaxian also saw the error.
With startling swiftness, he advanced and feinted a lunge. Caught mid-step, the Varisian faltered, but a wild parry saved him from the true attack. Before he could close his dagger to capture his opponent's blade, the Chelaxian had already sidestepped to attack the Sczarni's exposed right. The Sczarni tumbled across the cobblestones. He rolled and came up on both feet, gasping at a wound where had rolled over his own trident dagger.
"Is that two for me or one touch for both of us?" The Chelaxian laughed. "I can never keep track of your Sczarni rules."
Anger twisted the Sczarni's features. He assumed a knifeman's stance, presenting his chest to the foe, bringing his dagger hand forward. It was the worst possible posture for a sword duel, especially when facing an opponent with greater reach.
The Chelaxian knew it, but he also saw murder in the Sczarni's eyes. His mirth vanished as he assumed the classic guard position. From that instant, the outcome was obvious even to the untrained eye.
"Enough," said the fencing master. He raised a hand to indicate the victor.
As the Chelaxian turned to salute his fencing master, the Sczarni began to do the same. Then the trembling of his lips spread rage across his face. He lunged.
The Chelaxian reacted before I could shout a warning, but his master moved first. In a single swift motion he drew his blade and leaped. The point of his rapier pierced the Sczarni's wrist and thrust his attack out of line. An instant later, the Chelaxian struck the sword out of his weakened grip. Before the Sczarni could raise his trident dagger, the master struck it from his hand and slapped his face.
"Leave us," said the master.
"But master—" Tears glistened in the Sczarni's eyes.
Before the offending student could utter his protest, the instructor raised his left hand, palm outward, fingers to the right, hiding the Sczarni's face from his view.
The Sczarni paled at the gesture. Like the sign of the evil eye, it was as familiar to the Chelish citizens of Korvosa as it was to all Varisian people. Such a banishment was as irrefutable as it was irrevocable.
Leaving his weapons on the street, the defeated student turned away. At first he walked with slow pride, but as his shame consumed him, his pace quickened until he ran through the crowd, shoving aside those who moved too slowly.
The Chelaxian student's gaze sank to the street, his posture of triumph dissolving into an embarrassed slump. I recalculated my estimation of his age. He had yet to fill out his adult weight, and whiskers had not yet darkened his cheeks. While he carried himself like a man during a duel, he was perhaps closer to fifteen than twenty. He turned toward his master, but the man ignored him and approached me.
"Your Excellency, I beg you to pardon us for this disgraceful display." He bowed with the Korvosan flourish in vogue when we had first met, twenty years earlier.
I returned the courtesy, despite the disparity of our ranks. "No fault of yours, Master Raneiro. Not all students are worthy of their teachers."
"No," he agreed, with a glance at the victorious bravo. "This one's own father cast him out of his fencing school. He has some talent, but he cannot still his tongue."
The younger man had enough shame to blush, but he covered it with a deep bow toward me. "Your Excellency."
"You quarreled with your father?"
When the young man hesitated to answer, Master Raneiro said, "A political disagreement."
Thinking of the father I had never met and the mother I had lost far too soon, I fixed my eye upon the boy. "You should make peace with your father. One day your quarrels will weigh lightly against his absence."
He frowned, but before he answered, Raneiro caught his eye. Whatever else had been upon his tongue, what he said was, "Yes, Your Excellency." Despite the bravado he showed his opponent, he knew his place before a lord of Cheliax.
For his deference, I decided to reward him with an anecdote. "When I first studied under Master Raneiro, there was another student who quarreled with—"
An eagle's screech scattered the crowd. The buffeting wind from a pair of enormous wings lifted the awning of a nearby shop. A shadow passed over us an instant before the hippogriff landed upon the nearest roof. The impact startled a trio of imps out of the chimney. They trailed a few hectic circles of yellow smoke before correcting course and fleeing back toward the Acadamae.
The hippogriff's wings beat to steady its talons on the slope. Dislodged tiles slid off the eaves and shattered on the street. Despite the tumult, a practiced rider sat easily in the winged mount's saddle. He favored me with a jaunty salute. "Count Jeggare!"
"Captain Ornelos, have you been reduced to patrolling the streets of Korvosa?"
Laughing, the captain guided his mount to drop off of the roof. "Only at the behest of Lady Seraphina," he laughed. "After the unfortunate incident with your bodyguard—what was his name? Rad— Ru—?"
"Rudolfo."
"That's it. Poor fellow just couldn't hold his wine. Pity he chose the wrong wine house. Anyway, Lady Seraphina commanded me to ensure your safe arrival at tonight's ceremony."
"Commanded you?" A captain of the Sable Company answered only to his commandant, and the commandant only to the Seneschal of Castle Korvosa. Not even Queen Domina could interject herself into the chain of command.
"Commands me, most surely," said Ornelos. "In the manner of all beautiful women."
Beside me, where he had no right to stand, the young bravo chuckled. "It's a truth universally recognized that a beautiful woman commands all men."
Ornelos smiled upon the man, but the interjection annoyed me. There was no sign of nobility in the bravo's clothing. His speech was fair enough, but it could not conceal his common origins. A man of his station had no right to intrude upon an exchange between a captain of the Sable Company and a count of Cheliax.
To Ornelos I replied, "Please reassure Lady Seraphina that I have visited this district both to pay my respects to my old fencing master and to employ a new bodyguard."
The bravo cocked his head, considering the implications. In truth, despite my initially favorable impression of his swordplay, my hopes of finding a suitable man had sunk since he spoke out of turn.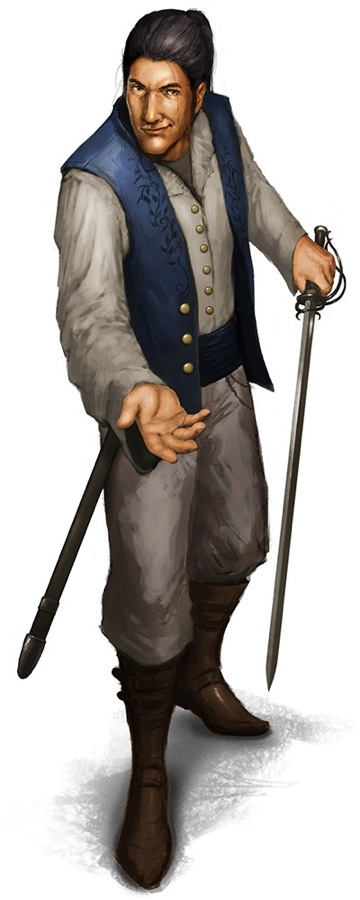 Vencarlo has the worst kind of arrogance—the kind backed up with real skill.
Reading my expression, Ornelos said, "I could recommend a dozen better candidates. Former Sable men, handy with a sword."
Before I could reply, the bravo spoke. "I beg you to send them here," he said. "I have damaged all my fellows and could use fresh sport."
Ornelos scoffed. "My men don't brawl with street ruffians."
The bravo grinned at the implied challenge, but before he could speak, Master Raneiro stepped toward Captain Ornelos. "Do you suggest that I train brawlers, sir?"
Doubt clouded Orenlos's face as he recognized Raneiro's tone. The fencing master was a proud man. He had trained a generation of the city's finest duelists, albeit in the streets rather than in a school. While it might prove instructional for all present to see him duel Captain Ornelos, such an altercation would ultimately harm both men.
"Master Raneiro, please disregard my friend Fedele's unfortunate choice of words."
Raneiro glanced at me, noting my own careful phrasing. He could not challenge a friend of mine without offering offense to me. I harbored no illusion that he feared either my station or my skill at the blade. I set my hope for peace upon our friendship.
For an airless moment, neither man spoke. Captain Fedele Ornelos shifted atop his hippogriff, his legs uncomfortable at rest in the aerial saddle. I raised my eyebrow to prompt him.
"Yes, yes, of course I meant no offense to the estimable fencing master." He hesitated, and for a moment I feared his pride would outweigh his diplomacy. "Please forgive me, Master Raneiro."
With a nod, Raneiro accepted the apology.
With the silent invisibility of superb servants, my footman had erected a small folding table. Upon it rested an opened bottle from one of my western estates, along with two goblets. Anticipating my unspoken desire, the footman produced a third vessel by the prestidigitation unique to his class. When he felt my approving eyes upon him, he almost succeeded in concealing his hope. He knew he could not rise to the position of butler in my household, where I employed only halflings, but he also knew that the butlers of four noble houses had been hired upon my recommendation.
At my nod, the footman poured the wine. It was a deep purple vintage Raneiro favored, a blend of several grapes and, frankly, not one of my finest. Yet he so enjoyed this particular wine that I paid the proprietors of several Korvosan wine houses to keep it in stock for the master's exclusive consumption, always free of charge. No matter the street or plaza on which the wandering master found himself teaching, he would find a drink at the end of the day.
Ornelos disengaged himself from his hippogriff's saddle and joined us. I raised my cup and uttered Korvosa's motto: "Fidelity and strength."
As we three drank the toast, the bravo lingered, eyeing the rapier at my side. He noted the calluses on my hand and studied my posture. He recognized a fellow duelist, and in the furrow of his brow I saw his questions.
"I need a man to watch my back, to mingle with the other servants and report their gossip. And, if it comes to it, a man who can hold his own in a fight."
"But you can fight," said the bravo. It was not quite a question. "Even with its jeweled guard, that blade is no mere ornament."
"Would you care for a demonstration?" I turned to Raneiro. "With your permission, Master?"
"By all means, Excellency." He stepped back, signaling his other students to re-form the dueling circle. In seconds, the onlookers returned in even greater numbers than before.
The bravo hesitated. "Do I have Your Excellency's word that I shall not be arrested for wounding you?"
"We shall not fence to first blood." I showed my footman the sign. He had prepared this demonstration before.
Removing my sword belt, I drew the blade and handed the scabbard to Ornelos.
"You can't seriously mean to fence in the street with this..." With a glance at Master Raneiro, Ornelos he chose his next word with care. "...youth."
"If not to first blood..." The bravo trailed off as the footman handed him a goblet full to the brim.
Accepting my own goblet from the footman, I assumed a guard stance. "The first to spill a drop must concede defeat. If you prevail, I shall give you this blade. And if I triumph, you must serve as my bodyguard for the next three days."
The bravo's smile widened as he found a balance between sheltering the goblet and holding his guard. "An excellent test. I accept!"
"Before we begin, tell me your name."
"Of course, Your Excellency." He cradled the goblet in two fingers as he bowed. "Vencarlo Orisini, at your service."
Coming Next Week: Mystery and danger in old Korvosa in Chapter Two of "The Fencing Master" by Dave Gross!
Dave Gross's adventures of Count Jeggare (often also featuring his hellspawn bodyguard Radovan) include the Pathfinder Tales novels Prince of Wolves, Master of Devils, Queen of Thorns, and King of Chaos; the novellas "Husks" and "Hell's Pawns"; and the short stories "A Lesson in Taxonomy," "A Passage to Absalom," "Killing Time," and "The Lost Pathfinder," all available at paizo.com/pathfindertales. He also co-wrote the Pathfinder Tales novel Winter Witch with Elaine Cunningham, and has written novels for the Forgotten Realms and Iron Kingdoms, as well as short stories for such anthologies as Tales of the Far West and Shotguns v. Cthulhu. Dave is the former editor of magazines ranging from Dragon to Star Wars Insider to Amazing Stories, and was a writer for Baldur's Gate: Enhanced Edition. For more information, visit bydavegross.com.
Illustration by Ian Llanas