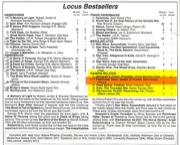 Congratulations to author Dave Gross for topping the Locus Magazine bestseller list!
Dave's characters of Radovan and Jeggare have been a lynch pin of the Pathfinder Tales line since its inception. From the very first time I opened one of Dave's manuscripts, I knew that the brilliant Count Varian Jeggare and his streetwise sidekick Radovan were exactly what I'd always been looking for without knowing it: two characters that burst with life, an odd-couple team every bit as compelling as Sherlock Holmes and Dr. Watson. It's been a pleasure to watch them grow over the course of the series, and to see readers fall in love with them the same way I have. To now see their latest novel, Queen of Thorns, hit #1 on the Locus bestseller list is hugely satisfying, and a confirmation of something I've believed since the beginning: that these two characters—and their author—are the sort of storytellers that weasel their way into a reader's heart and leave you anxious for more.
The next Pathfinder Tales novel from Dave Gross, King of Chaos will be available in August 2013.
James L. Sutter
Fiction Editor/Senior Editor