We're back from Gen Con, and holy cow things went great for Paizo at this year's show! I was very pleased at the reception of our new Rise of the Runelords Pathfinder Battles prepainted plastic fantasy miniatures, as con-goers surrounded our display of all the unboxed figures throughout the exhibit hall hours, and I kept seeing the figures (along with our new Bestiary Box Pawns) all over the 95 tables of Pathfinder Society games that ran every slot of the convention.
I was especially pleased to accept the gold Gen Con/ENnie award for Best Miniatures Product for our very first Pathfinder Battles set, Heroes & Monsters. As proud as I am of that initial offering, from my perspective the Pathfinder Battles sets just keep getting better and better, so I'm eager to see what next year's judges and voters think of Rise of the Runelords and the upcoming Shattered Star minis set!
We ended up selling out of all the Rise of the Runelords minis by Sunday, and I was pleased to see several gamers getting in line two or three times with piles of boosters in hand as they hunted down that one specific figure or simply augmented their growing collection of Pathfinder Battles miniatures. Reaction to the new four-figure standard booster format was very positive, and it was really cool to see people so excited about a product line I've personally poured a ton of attention and sweat into over the last year. I was pleased to see that our partners at WizKids felt similarly, and your support made both of our conventions among the best ever.
Of course, as much as I love the Rise of the Runelords figures, these days I've been spending an awful lot of time with that set's younger, hotter cousin, the Shattered Star! This set of 55 miniatures is currently slated for a January 2013 release, coinciding with the publication of the final volume of the Shattered Star Adventure Path!
Shattered Star was our first opportunity to develop a set of miniatures to support an Adventure Path at the same time that that Adventure Path was being outlined. I've spoken before in earlier columns about the difficulties associated with such a plan (we have to make LOTS of decisions MUCH sooner than we're used to in order to pull it off given the extremely long lead-time involved with miniatures production), but one of the great things about this approach is that I got to sneak a few miniatures into the set (and hence into the Adventure Path outline) that have never before been released as prepainted plastic miniatures.
Which leads us to today's figure: The Caryatid Column!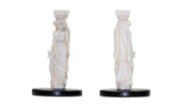 This creature has a long history in fantasy gaming, but its inspiration has an even longer history in, well, history. Caryatids—which is to say columns in the form of maidens—have been a part of architecture since the ancient Greeks. Their use dates back to at least the 6th century BC. I was able to see one of the famous caryatids at the British Museum while visiting London after Gen Con UK a few years back, and the sculpting was so realistic that the stone dresses worn by the figure looked soft to the touch, almost like it was real cloth on a real woman.
Happily, in the Pathfinder Roleplaying Game, Caryatid Columns actually DO come alive, making them near-perfect low(ish)-level constructs. Plus, hitting them has a way of breaking the PCs' weapons, which is always fun for the GM.
When I decided to include a Caryatid Column in the Shattered Star set, I took a look at the drawing included in the Pathfinder Bestiary 3. a neat enough illustration, but it lacks the sort of clothing effects I expect to see on a Caryatid Column inspired by the genuine articles. Instead I asked WizKids' artists to base their sculpt upon an actual, real-life Caryatid Column from the ancient world. I think the resulting figure looks a lot better than a straight translation of the art from the Bestiary.
By sculpting our Caryatid Column figure in "column form," the miniature doubles as any sort of pillar you might want to throw on your game table. I'm eager to set up whole rows of these guys (or gals, as the case may be) in my dungeons. Maybe some of them are ordinary pillars, while others are monsters waiting patiently for the arrival of the heroes. Who knows? Well, I know, of course, which is one of the reasons I prefer to be the GM.
Lastly, because I'm a nice guy and because I'm sure a few of you out there are wrongly clicking your tongues and thinking "big deal, so it's a column," I'm going to drop ONE MORE preview on you.
Ladies and gentlemen, I give you the Night Hag!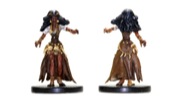 So until next week... pleasant dreams!
Erik Mona
Publisher