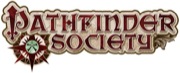 Adventures Worth Holding Your Breath For
Just as the Seattle area transitions from chilly and wet to "sunny yet inexplicably still raining," so too is the Pathfinder Society Roleplaying Guild team eager to get outside and explore some exciting locations. We're also pleased to have an exciting Season 9 schedule in place along with the name and logo, much of which we'll announce at PaizoCon 2017, so be sure to attend the PaizoCon Preview Banquet and the organized play panel the following day to ask any questions you have. In the meantime, let me share a few more secrets about this month's scenarios—both of which lead into our PaizoCon releases!
More Paizo Blog
.
---
Tags: Community Contests Dion Harris Jeffrey Lai PaizoCon 2017 Pathfinder Society Pathfinder Society Scenarios Tom Ventre
---
March Scenario Preview
March Scenario Preview Monday, March 14, 2011It seems like only yesterday we released the February Pathfinder Society Scenarios, Joshua J. Frost's Shades of Ice—Part I: Written in Blood and open call author Martin Long's The Flesh Collector, but we're already gearing up for the next batch, due out in a few weeks. ... Illustration by Jeffrey Lai ... In addition to trying out new authors through our open call process, Pathfinder Society Scenarios now let us test out new artists we may... More Paizo Blog

.
---
Tags: Jeffrey Lai Pathfinder Society Pathfinder Society Scenarios
---