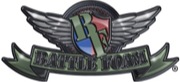 Hey Pathfinders!
This is Romeo Filip of Battle Foam, and I'm thrilled to share today pictures of the new bag we've been working on for Pathfinder!
Available late-spring 2015, the official Battle Foam Pathfinder bag is designed to carry all of your Pathfinder books, accessories, and other goodies, in new and exciting storage options.
We're very lucky at Battle Foam to partner with the best companies in the industry, and working with Paizo and the Pathfinder brand has really pushed our excitement overboard while creating this new Pathfinder bag. We think it's a must-have item for all Pathfinder fans, and we hope you agree.
Feel free to let us know your feedback here or Battle Foam on Facebook.
Romeo Filip
Battle Foam