The release of Pathfinder Campaign Setting: Inner Sea Combat is approaching, and it's a book I'm particularly proud of. Since I've taken over the Pathfinder Campaign Setting line, we've released a number of books, but this one is perhaps the most jam-packed with amazing new rules and thematic elements of the lot. Just about every page has something on it that makes me want to run a new campaign or build a new character. If only I had the time to do so! But as a developer, I often game vicariously through the players and GMs who use the content I have a hand in delivering, and I can't wait to hear what fun you fine folks have with this one!
Let me show off a few of my favorite pieces of art from the book, and tell you what about these images and the content related to them really excites me.
First we have this amazing half-page chapter opener by Jason Rainville, of Sajan sparring with a fellow monk. She's proof positive that an amulet of mighty fists doesn't just affect your hands. This illustrates the chapter on new combat schools of the Inner Sea, including gladiatorial arenas like the orc-run Bloodworks in Urglin, dojos like the Houses of Perfection in Jalmeray, war colleges such as Ironstock Hall in Alkenstar and Brevoy's Aldori Academy, and thieves' guilds like the Bloody Barbers of Absalom. Players can join schools to gain new abilities to represent their training, as long as they can make the grade.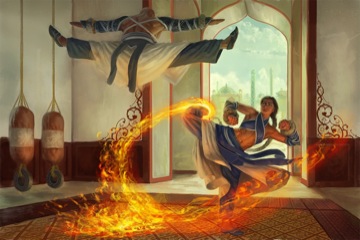 When we sat down to outline this book, I was absolutely amazed at how large and varied our list of potential archetypes was, and I think people are really going to like the ones that ended up making the cut. We have archtypes for Shoanti burn riders; Bekyar slavers; undead-loving antipaladins known as seal-breakers; Iroran paladins; Sable Company marines; Osirian Ouat dwarf monks; the Qadiran horse lord (depicted here, by Kim Sokol); and dozens more.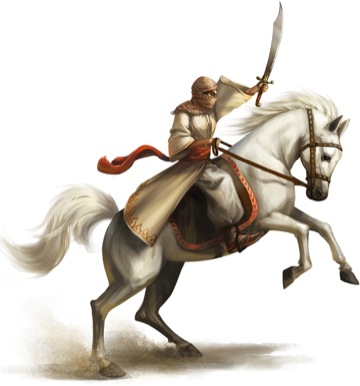 Speaking of horses and riders, we couldn't do a book about combat and not present a stable of new material for cavaliers, masters of battlefield strategy and horsemanship. Inner Sea Combat presents two new cavalier orders, rules on taking a monstrous mount (like a hippocampus, hippogriff, or worg), and context for where in the Inner Sea region the knightly orders presented in our setting-neutral hardcover rulebooks fit in. Alain may get a lot of heat for being a jerk (not undeservedly, I might add), but with Inner Sea Combat, he gets the ability to show that his attitude isn't completely undeserved (as this action-packed illustration by Jason Rainville shows).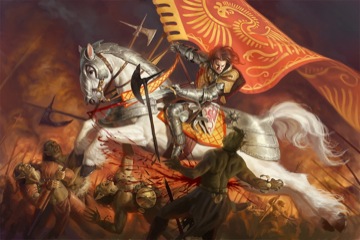 That's all I have time for (and that they'll let me spoil) so you'll just have to wait to see what else Pathfinder Campaign Setting: Inner Sea Combat has in store for you. The wait shouldn't be too long. It's on its way soon!
Mark Moreland
Developer