The release of the Pathfinder Campaign Setting hardcover, Inner Sea Gods, is fast approaching, and that means it's time for some previews. The art team already did a preview of some of the amazing illustrations to grace this 336-page tome, so I'll talk a bit more about the words that accompany the book's incredible art.
The bulk of Inner Sea Gods are flavor-filled write-ups of all 20 core deities of the Inner Sea region. These articles go into divine detail about the gods' personalities, relations with other deities, their appearances, and home realms, as well as overviews of their churches' organization, typical temples and shrines, a priest's role, holy texts, holidays, and summonable planar allies.
Beyond the core deities, Inner Sea Gods also explores many of the region's minor deities to a deeper degree than ever before in the history of the Pathfinder campaign setting. Among the deities covered in this section are Achaekek, Alseta, Ghlaunder, Kurgess, Naderi, Razmir (yup), Sivanah, and Zyphus. Even more deities of all sorts are presented as complete pantheons, both of racial deities (like those worshiped by dwarves, elves, orcs, and other monstrous races) as well as the Outer Gods, demigods, and forgotten and dead deities.
If that doesn't seem like a lot of gods, check out this spread from the appendix. This is only 1/7 of the content in this massive table of just about every being you can worship in the Inner Sea.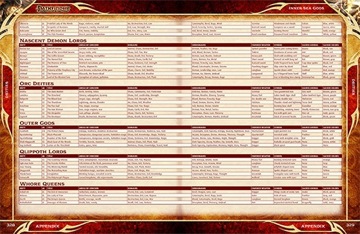 Check the blog soon for another look inside Inner Sea Gods, in which we'll examine some of the new rules elements available in the book (and yes, we'll show off some more art). Inner Sea Gods will be shipping to subscribers and game stores in April, and is available for preorder now.
Mark Moreland
Developer