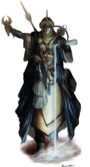 Illustration by Maichol Quinto
From pesky quasits to fiendishly handsome incubi, grotesque dretches to cunning glabrezu, all of the foulest denizens of the Abyss continually show that they are in dire need of slaying. To this end, countless groups and organizations across the Inner Sea train in the art of hunting, defeating, and slaying demons that crawl forth onto the Material Plane. Alternatively, these daring adventurers delve into the heart of the Abyss itself, taking the battle to the demons' home plane while performing harrowing missions to retrieve valuable treasures or rescue captured victims. Both of these themes are the focus of Pathfinder Player Companion: Demon Hunter's Handbook—a volume no demon-slaying adventurer should miss!
In addition to all the usual goodies readers have come to expect from Player Companions (including new magic items, feats, spells, and more), one of my favorite parts of Demon Hunter's Handbook is a section called "Innovations of the Crusades," which details a slew of inventions and items used by the demon hunters and Mendevian soldiers fighting in the Worldwound. In addition to the holy fountain firework, deity-specific portable altars, and new alchemical items useful for slaying fiends from shadow demons to omoxes, the following new item can be a crucial aid to intrepid heroes delving head-first into demon territory.
Angel Quill Arrowhead

Price 10 gp


Weight —

Illustration by Francesco Graziani

This barbed, cold iron arrowhead is alchemically treated to inflict additional harm while embedded in creatures that are vulnerable to cold iron. For every angel quill arrowhead that damages a target with DR/cold iron, the target's damage reduction decreases by 1. Up to five angel quill arrowheads can affect a single target at any one time, reducing the target's DR/cold iron by up to 5 (additional arrowheads have no effect aside from dealing damage as normal). An affected target can pull out a number of arrowheads equal to her Dexterity modifier (minimum 1) as a full-round action with a successful DC 15 Heal check. Alternatively, the application of any magical healing causes all angel quill arrowheads embedded in the creature to instantly fall out.

Angel quill arrowheads of silver and adamantine are also available for the same price, and affect creatures with DR/silver or DR/adamantine, respectively. Crafting any type of angel quill arrowhead requires a successful DC 25 Craft (alchemy) check.
In addition to being useful for any party that might run afoul of extraplanar baddies, this book is a perfect aid for groups playing the forthcoming Wrath of the Righteous Adventure Path. Adventurers need wait not much longer for the chance to expand their demon-slaying arsenal and bring the fight to the heart of the demonic incursion, because Demon Hunter's Handbook hits shelves this August!
Patrick Renie
Developer