Last Friday, the poor Paizo Blog was bereft of a Pathfinder Battles preview on account of yours truly running the Pathfinder demo room at PAX Prime. PAX is an enormous Seattle-based convention with a primary focus on computer games, which means that the 70,000+ attendees are all decked out with the latest trends in wireless gaming and handheld mobile devices. This has the side effect of train-wrecking internet access from virtually anywhere in the convention, which means no blogging from the show floor.
Thanks for your patience, and I hope you minis fiends out there were able to make it through the weekend without a major bout of the DTs.
Anyway, because you got no previews last week, I wanted to make sure you got something big this week. And when I think big, one of the first things that comes to mind is the massive sword wielded by our iconic barbarian, Amiri, who just happens to star in the new Shattered Star Pathfinder Battles set!
WizKids really outdid themselves with this figure, as they have with all of our iconic characters so far. I originally tried to get the company to include Amiri in our first Pathfinder Battles set, Heroes & Monsters, but WizKids politely declined, saying that the overwhelming detail and pointy bits of Wayne Reynolds's original illustration would make it impractical to sculpt in plastic. (Incidentally, that's why H&M only has one iconic character, whereas all following sets have two).
By the time Shattered Star came around and WizKids had already proven themselves more than capable of handing challenging subject matter, I quietly added Amiri back to a set list, and this time they didn't even flinch. Instead they came back with what I consider one of the most beautiful figures they've produced to date.
Looking at the figure in hand brings out a lot of awesome details that you can't quite make out from the photograph. Amiri's slight sneer, the cracks in her armor plates, and the scars on her belly really jump off the figure in an awesome way.
And yes, she's holding an enormous sword. Don't blame us! She stole it from a frost giant, and it's served her very well to date, especially when she's raging.
I think you guys are going to love her.
But since I said "big" in the title of the blog post, it only seems fair that I include an actual "big" miniature in addition to a regular-sized miniature holding a big sword. For that purpose, I've decided to also reveal the Hill Giant!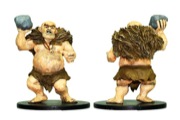 This sculpt perfectly captures the slack-jawed glory of the original hill giant illustration in the Pathfinder RPG Bestiary, and continues to round out our offerings of "core" giants in prepainted plastic.
Although the Shattered Star Pathfinder Battles set includes lots of specific NPCs born out of the Adventure Path itself, it's also a chance for us to include plenty of rank-and-file monsters that just happen to be encountered in the course of the campaign. This rock-throwing simpleton is just one of the many yet to come.
But they will, alas, have to wait for future Fridays, as I am all out of time!
See you next week,
Erik Mona
Publisher