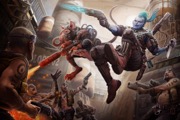 To Indy, And Beyond!
Wait, it's already August again?! It's almost time for crowds of gamers to converge in Indianapolis for Gen Con 50 and Paizo officially releases our newest roleplaying game, Starfinder! If you're on your way to the show, we've gone ahead and collected a list of all things Pathfinder and Starfinder that you'll be able to check out over the weekend.
More Paizo Blog
.
---
Tags: Conventions Gen Con Gen Con 2017 Victor Manuel Leza Moreno
---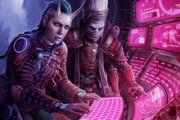 Dead Suns Dead Ahead!
One of our goals with the Starfinder Adventure Path was to feature material that would be useful to both GMs and players. Of course, every volume of the Starfinder Adventure Path includes an exciting adventure for GMs to run for their players, but we've also worked really hard to include new rules and mechanics for players, such as new equipment, new character options, and new feats and spells. We'll also be presenting new alien creatures (both to fight and to play), new starships, and new planets to visit.
More Paizo Blog
.
---
Tags: Allison Theus Dead Suns Mirco Paganessi Starfinder Adventure Path Victor Manuel Leza Moreno
---