Starfinder Society: Year of Scoured Stars T-Shirt
Offworld Designs
(based on

1

rating)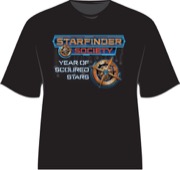 Add Small $20.00
Add Medium $20.00
Add Large $20.00
Add XL $20.00
Add 2XL $23.00
Add 3XL $23.00
Add 4XL $26.00
Add 5XL $26.00
Kick off the first Starfinder Society season, Year of Scoured Stars!
Screen printed on a black 100% cotton t-shirt, in the USA.
Additional Product Images
---
(click to enlarge)
Product Availability

---
Available now
Ships from our warehouse in 1 to 5 business days.
Are there errors or omissions in this product information? Got corrections? Let us know at store@paizo.com.
OWD-29025
---
See Also: