Join Team Paizo for the 2019 Gauntlet!
May is a busy time for us Paizonians, with convention season ramping up and PaizoCon just around the corner, there's so much to do! One thing I always look forward to at this time of year is the Mox Gauntlet, and it's coming up THIS SUNDAY!
More Paizo Blog
.
---
Tags: The Gauntlet Paizo
---

Hail the Gauntlet!
Thank you to everyone who donated to Paizo's 2018 team for the Gauntlet charity tournament. Team Paizo fought hard in Tak, but a catastrophic Valeria round tumbled us towards the bottom, and we clawed our way back up to 11th, and almost as high as 8th, with an awesome performance on the final Puzzle Hunt round. Thanks to all of you, including an incredible last-minute donation over $1,000, we also unlocked an astonishing number of blog segments revealing further secrets about previously blogged classes. This will be a monster-length blog, so strap in for a long ride!
More Paizo Blog
.
---
Tags: Charity Community The Gauntlet Pathfinder Playtest
---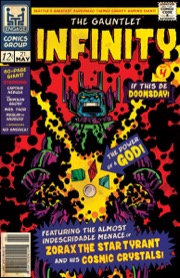 Help us Win the Gauntlet Infinity!
When last we left our heroes, they were locked in a fight with a cunning and powerful warlord from the depths of space who had claimed the all-powerful Gauntlet: Infinity and was planning to use it to rule the universe! Can our heroes triumph to reclaim the gauntlet? Will they survive the daylong battle, subsisting only on snacks and caffeine? Will you help them achieve victory?
More Paizo Blog
.
---
Tags: Charity The Gauntlet Paizo
---