Starfinder Society, Paizo's Newest Organized Play Program
Immediately after the announcement of the Starfinder Roleplaying Game last PaizoCon, our community started speculating about an organized play program to support the new game. We spent the ensuing months looking at workflow and charting out a course that would enable us to have both Starfinder and Pathfinder organized play programs. It delights me to end speculation and announce the launch of Starfinder Society at Gen Con 50!
More Paizo Blog
.
---
Tags: Conventions Gen Con Gen Con 2017 Organized Play Sebastien Hue Starfinder Starfinder Society
---

New Starfinder Interview!
More exciting Starfinder work continues to churn around these parts, and with that, more information about the upcoming roleplaying game has made it's way to the masses! In an interview with Matt Miller over at Game Informer, our own James L. Sutter divulged more details about the process behind Starfinder (and creating this all-new core rulebook full of gameplay and setting material). I've snagged some of the new artwork and other information (including captions from James) to show off here, but you should check out the whole interview for all of the new juicy bits.
More Paizo Blog
.
---
Tags: Iconics Iseph Leon Tukker Remko Troost Sebastien Hue Starfinder
---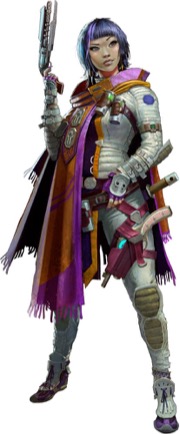 This is Not a Dream
The end of 2016 is proving to be an exciting and incredibly busy time around the office! The Starfinder team is chipping away at the process of filling the gaps in our grand science fantasy plans and working with our playtesters. More and more bits of truly stunning artwork are trickling in, and it's starting to feel like this is all really happening now! Yesterday Polygon released an exclusive article, and since I've taken over the blog for today, it's about time we show off some places and a new iconic character here. Meet Navasi, an iconic Envoy!
More Paizo Blog
.
---
Tags: Iconics Leon Tukker Navasi Remko Troost Sebastien Hue Starfinder
---