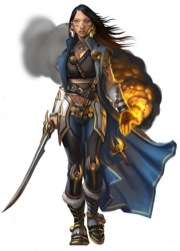 Kyra, hierophant and future goddess of retribution
One of the great things about working at Paizo is the after-work gaming culture. Sure, there are home games, but there are also one-shot rounds of RPGs that I might not have tried otherwise. What's more, they're run by GMs who are passionate about sharing their latest non-Pathfinder discoveries. A little more than a month ago, Paizo editor Ryan Macklin decided to run a game of Mythender, a roleplaying game about killing gods. That's right, the characters are Mythenders, powerful heroes that straddle the line between mortality and the divine in their quest to rid the world of all Myths. The game's website describes it in better and greater detail, but suffice it to say it's an intense, action-packed experience that involves handfuls of dice, encourages over-the-top descriptions, and is well suited to heavy metal background music.
It's also a free game, and I encourage you to give it a try.
So what does this have to do with Paizo? Well, Ryan's the author, and the game just celebrated its first birthday. He approached me about working on a Golarion version of the game, and we just released a 14-page web-supplement under the community use policy adapting some classic canon to Mythender rules. Now you can take the fight to Asmodeus, Irori, Nethys, Rovagug, Sarenrae, and Aroden along with all of their servitors. We present each Myth with a heretical, sinister twist to make it all the more satisfying to End, which is not to be confused with official Golarion canon.
Check it out. Play it for free. End some gods.
Happy gaming,
John Compton
Developer
Illustration by Eric Belisle