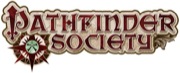 Dragon's Demand: New Sanctioned Module!
Remember when Paizo first announced the new 64-page format for the module line back in November 2012? I recall mentally comparing it side-by-side with the 32-page modules from the perspective of a Venture-Lieutenant, store liaison, and event organizer. Those 32 pages were already pretty tough to squeeze into a one-day event. 64 pages would certainly be impossible. I remember thinking back then that Mike and Mark would have to do some clever thinking to find some way to sanction the module for Pathfinder Society Organized Play. I shrugged and just assumed that I would end up writing the boons for the Chronicle sheets but nothing more.
More Paizo Blog
.
---
Tags: Miguel Regodón Pathfinder Modules Pathfinder Society
---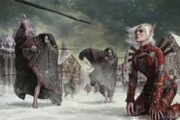 Welcome to Whitethrone!
Enjoy the splendid weather! Taste the local flavor!* Meet new and interesting people!
More Paizo Blog
.
---
Tags: Dmitry Burmak Jason Rainville Miguel Regodón Pathfinder Adventure Path Reign of Winter
---

So You've Survived the End of the World
In the spirit of the end times, I thought it would be fitting to provide a glimpse at what's coming at the start of the new year—a supporting article in Pathfinder Adventure Path #66: The Dead Heart of Xin detailing all seven of the infamous runelords of ancient Thassilon. Because their potential return to the modern world of Golarion could very well usher in a catastrophe even the biggest Mayan prophecy conspiracy theorist couldn't dream up, here are the headshots of all seven. So while you're out enjoying time off work for the holiday season, keep your eyes peeled for Varisia's Most Wanted.