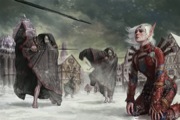 Illustration by Jason Rainville
Enjoy the splendid weather! Taste the local flavor!* Meet new and interesting people!
Anyone who said Whitethrone isn't safe is just spreading some sort of propaganda. All are welcome in Whitethrone. Ice trolls, goblins, and winter wolves walk the streets and the White Witches make sure that everything runs smoothly. The only thing to be careful of are rabble-rousers and dissidents.**
Subscriber's shipments are on their way and before long GMs and players all over can eagerly dig into The Shackled Hut, the second volume of the Reign of Winter Adventure Path, for all their witch-fighting fun!
Adam Daigle
Developer
* On second thought, you should probably stick to your rations. You brought rations, right?
** PCs should disregard this. Instead, be careful being the rabble-rousers and dissidents. There's a world to save and we don't need any PCs dying on us.