Ready for a whole new way to roleplay? Draw a Plot Twist Card and guide the adventure in directions limited only by your creativity. Plot Twist Cards open up a new experience of shared storytelling, providing players with ways to suggest new events during an adventure or get help when they need it most. Each of the deck's 51 cards presents a different theme that the GM and players, working together, can weave into the game's narrative, as well as related rules effects. With Plot Twist Cards, everyone can help tell the story and enjoy being surprised by new and unexpected turns of fortune.
GameMastery Plot Twist Cards add a new storytelling element to roleplaying games, allowing players to bring their own twists to an adventure's plot. Each card provides a minor story-altering idea along with a few options players can either use as presented or take inspiration from to craft similarly themed suggestions that affect in-game events. Every Plot Twist Card can be interpreted in countless ways, allowing players to suggest minor alterations to a game's events that a GM might add or adapt however best fits the story's needs. Such alterations might bring about an added bit of luck to improve the situation for the PCs or up the ante to create even greater challenges—it's all up to the players and their Game Master!
ISBN-13: 978-1-60125-262-3
Sample cards. Click to enlarge.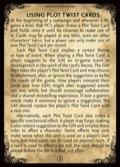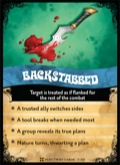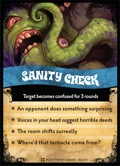 Illustrated by Matt Dixon.
Cards: Ships from our warehouse in 1 to 7 business days.
Non-Mint: Unavailable This product is non-mint. Refunds are not available for non-mint products. The standard version of this product can be found here.
Are there errors or omissions in this product information? Got corrections? Let us know at store@paizo.com.