I Can See For Miles
Pathfinder Online GenCon/PAX Promotion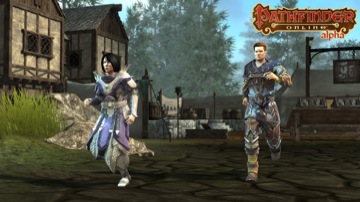 With Pathfinder Online almost through with its Alpha testing and the release date for Early Enrollment fast approaching on September 15, the goblins over at Goblinworks decided to celebrate by offering a special promotional discount on access to Pathfinder Online. From the beginning of Gen Con until the end of PAX Prime, you can buy your access to Pathfinder Online for a discounted amount.
Early Enrollment gets you into the game on day one, provides you with the client download and three months of game time, and gives you a New Players Pack of consumables. Normally $100, use the special discount code GenConPax14 to get $15 off! If you can wait until month two (approximately October 15, 2014), then take advantage of the new Explorer level of access. Normally $50, the GenConPax14 code will knock off $10 making it a $40 entry into the game in month two. You will get 1 month of game time and the client download with your purchase.
If you are already excited about Pathfinder Online, you might want to check out the two player owned structures that Goblinworks has made available, the Smallholding and the Base Camp. Both are currently the only ways that a single player can own a building in Pathfinder Online. Every other building will be owned by groups of players.
Go to the Goblinworks Store and check out all the deals for Pathfinder Online. There is less than a month to go until the River Kingdoms are open for exploration and conquest. But these great promotional prices will only last until the end of the Labor Day weekend.
I personally have spent quite a bit of time exploring the Alpha portion of the River Kingdoms, and am a bit addicted to it. It has been fun fighting off goblins, ogres, bandits, Razmiran cultists, Ustalavian invaders and skeletal hordes, while harvesting the materials needed to create better equipment for ourselves. There is an active community of gamers already here, and they would be more than willing to answer any questions you have, or take them into their young but growing settlements.
Remember, just use the code GenConPax14 to get into the action!